I found myself at my local yarn shop (LYS, in knitterspeak) a few weeks ago, in need of several new circular needles.  My being at the yarn shop is nothing new – I'm there for their open Knit Night every Friday night.  (Husband and I have long since moved Date Night to Thursday or Saturday, for the sake of our relationship. Knit Night is sacred, y'all.)  What was unusual is that I needed not one, but two new circular needle sets in a US 2.  Because all four of my size 2 needles were already occupied.
What?!?  Yes, you read that right – all of my already abundant supply of size 2 needles were actively at work in a current project.  How can this be?  My typical project load bridges the range of gauges – a sock project on size 2's, a sweater on size 6 or 8, a shawl on size 4, for example.
Somehow, I have found myself with a range of projects all knit at the same gauge.  In my world, this is as small as I go.  You will not find a smaller needle in my stash.  So…tiny, according to me.  Is all of this small gauge knitting driving me crazy?  Not in the least.
There's the ever-present sock project, of course.  I'm using the second half of the skein I used for my aunt's Rowell Mitts.  I love that mitts are so cozy and luxurious, yet there is yarn left over for another project.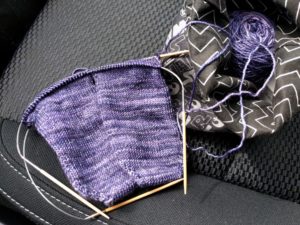 My sock projects almost always fall in the category of purse knitting.  I'm only ever working on them while I'm waiting – for dinner, for a doctor's appointment, on an assignment at the day job.  (The day job has a nutty amount of waiting sometimes.  My coworkers look longingly at my knitting on the really outrageous days.  I love it!  And yes, I've offered to teach them all to knit.)  I started this pair on March 29th, and this is how far I've gotten in almost a month.  That's a lot of waiting!  Also, think of all the lost productivity if I had just sat there and played on my phone instead.
I've also got the usual sweater project on the needles.  "Tiny" needles in this case.  I wanted a simple shawl collared, lightweight cardigan for our three seasons of sweater weather.  This hand-dyed charcoal grey will fit right into my wardrobe without any trouble at all.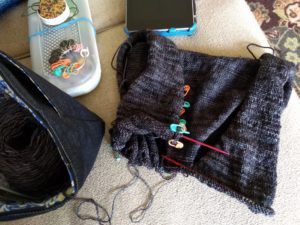 It's a simple stockinette stitch, which may be boring to some.  Since I only have to keep track of the shaping rows, it's perfect for working while watching the more interesting shows in my Netflix queue.  My next version might incorporate cabling and texture, but for now this plain version is keeping me happy.
Finally, I ripped back the summer skirt experiment from last summer to try it again.  My good friend, Cathy, and I had a ripping party one weekend.  So much fun to clear the WIP bins and boxes of stale projects.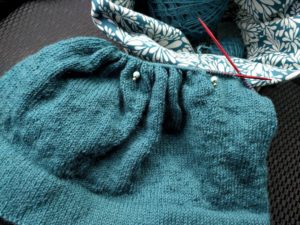 I kept the waistband, as that was working just fine, and reworked the increases.  Since the cardigan project was in a non-traveling state at the time, I took this skirt project on our recent weekend trip.  Again, nearly mindless stockinette stitch is perfect for working while concentrating on the more exciting stuff going on around me.  So this one is cruising right along as well.
I must be in a congested brain state or something, with my need for all of this simple, small gauge knitting.  We all could use a little meditative stitching on occasion, right?