Spring is later than usual in the PNW this year.  I guess that's what we get for enjoying all that extra snow!  So the usual early spring flowers have been playing catch-up over the last week, the trees are adding yet another green layer to the already-green winter landscape, and our hummingbird pair has set up their annual nest in the pine tree just over the back fence.  I love to hear their little pips and chirping song!
I'm starting to come out of hibernation too.  We're getting a few rare peeks of sunshine here and there, and of course I immediately drop everything to go outside and soak it in.  By this point in the year, we all feel like we haven't seen the sun since October.
Spring cleaning this time around included clearing off all the needles and bobbins, so I have a lot of finished projects to show you.
First up is the smocked knit skirt project.  Several folks in my knitting group expressed doubts about this skirt when I cast on.  Chief among the concerns: sagging, especially after long periods of being seated.  I admit, that is a valid concern when it comes to a knitted skirt.  Here is where the power of the online knitting community really shines – through Ravelry, I could look up the project notes of the other people who have finished this same garment and worn it out in the world.  Their experience?  No sagging.  So I confidently knit on.
The waistband modification I made turned out great.  The skirt stays put, which means I'm not worried about it twisting or slipping downward while I'm moving around in it.  Also, I can add my experience to the other knitters: no sagging.  Even after sitting in it for 5+ hours.  (These photos were taken after the 5-hour endurance challenge.)  I can also report that it is definitely reversible – I love the "inside" just as much as the "outside" and will probably wear it both ways.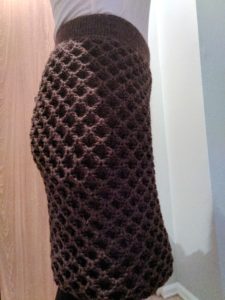 For the knitters:
The next finished object is a shawl knit from the gradient handspun from last fall.  I cast this on as a quickie project I could take with me everywhere, since the sweater had become too bulky for on-the-go knitting.
At first, I wanted something lacy, but once I started knitting I quickly changed my mind.  The yarn just didn't want to be lace.  What I needed was simplicity with a little bit of texture.  So I cast on at one corner and worked a wide rib to the bind off, increasing as I went along.  Easy peasy.  I love how this shows off the gradient, and is so soft and drapey at the same time!
For the knitters:
Yes, yes.  That's all good, but what about the alpaca sweater project?  I'm getting to that.  As you'll recall the body turned out very well, then I got stuck on Sleeve Island and distracted by the two projects shown above.  Well, the sleeves went quickly once I actually made myself work on them.  I only needed two tries to get the wide cuff to work like I wanted it to.  But that darn cowl collar gave me fits and I ended up working it three times.  Such is the life of a knitter.
But oh how it worked out beautifully in the end.  I love the fit and the wide ribbed elements.  The shaping is exactly what I had envisioned.  This one is definitely going into the regular winter sweater rotation.
For the knitters:
The latest sock project came off the needles too.  There seems to have been rather more waiting room type knitting than I remember – both the gradient shawl and these socks fell into this project category.  So here's another pair of happy, warm socks to add to the regular rotation.
For the knitters:
Then I snuck in another quickie project using some of my own handspun yarn.  I had earmarked this yarn for a cabled pillow cover as soon as I finished spinning it, but other projects took priority so I took forever to cast on.  The variegation in the yarn is rather busy, so I deliberately kept the pattern to a simple cable and textured stitches on the front with a plain stockinette back.  Bonus is that the pattern was nearly mindless, take everywhere knitting, and worked up very quickly.  I am really happy with how it turned out!  I can see a few naps on this throw pillow in my future.
For the knitters:
The last finished object I have to show you today is a very happy spinning project.  I took full advantage of any "lighter cloudy" days that came along to sit in my front windows with my wheel and work on this one.  I love spinning BFL.  But BFL plus silk?  Mmmm!
I divided the braid in half for two bobbins.  The first half was halved again, then spun as it came onto the first bobbin.  The second half was divided into fourths, then spun as it came onto the second bobbin.  This mixed up the colors when plied together into the finished yarn.  Folks, this yarn is heavenly!  Super soft, great shimmery color, and fabulous drape.  My hands were so happy while making this!
For the spinners:
Okay, that should catch us up on the finished objects!  Of course that means I immediately cast on at least a few knitting projects, and started a bobbin on the next spinning project.  Gotta keep making!  I'll tell ya about those later.  The sun is out for a few minutes – time to go outside.