Have you ever encountered one of those weeks, where everything sort of piles on itself and there is no time to catch a breath?  I know you have.  Everybody has.  Well, that's what happened to the last several weeks.  Mom came into town for a visit over Mother's Day.  It was fabulous and we had a wonderful time.  But that meant I was prepping the house, prepping to be off work for a week, then all of the glorious visiting, then recharging.  (As an introvert, I know the recharging bit is necessary.  I just didn't know I'd need multiple days of it.)  I think I'm out the other side now.  Which also means there's lots of stuff to show you.  Because while my social side has been quiet, my hands have been very busy.
I finished the miles of stockinette body on my experimental skirt, then started the easily memorized lacy texture pattern around the bottom.  Can I tell you how much I love this lace pattern?  It's a perfect match for the image in my head of the finished skirt.  Knit flat, it is prone to biasing.  Knit in the round, it hangs perfectly straight.
Once the lace band was finished, I had a decision to make.  I could work a few rounds of garter stitch at the hem and bind off.  Or I could work a picot bind off at the hem, similar to the edging on my Lily shawl.  I decided to work the picot bind off.  I'm glad I did, even though that meant a seemingly endless amount of additional knitting.  Here it is in an unblocked state.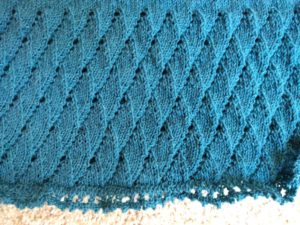 You know the first thing I did once the skirt was off the needles?  Yep.  I tried it on.  It fits!  The waistband is perfect, even without the elastic (though it will fit even better with this addition).  The length and weight of the fabric are perfect too.  And that lace band at the hem – including all those maddening picots! – is exactly as envisioned.  The only thing I'm not happy with is the rate of increase to get the shape.  It has turned out to be too sharp, and the hemline is wider than it needs to be.  Here's the final skirt, laid out so you can see the full outline (again, it's in an unblocked state so the hem is more ruffled than it will be once blocked).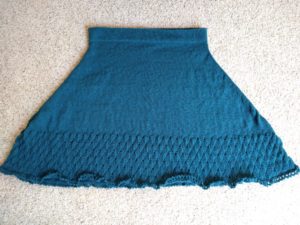 It's not bad.  It's just not what I'd envisioned.  Here's what I really had in mind.  (No, I didn't cut my knitting.  I folded in the sides a bit to get this photo.)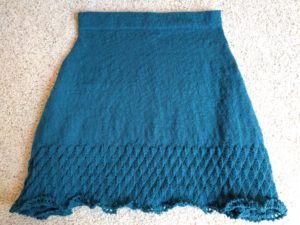 See how it's still an A-line shape, but less dramatic?  That's what the image in my head looks like.
So back to square one on that project.  I've made adjustments to my notes for the next time I knit it.  My options are to rip this one and reknit it, or to just start from scratch with new yarn.  It's going on the back burner until I decide.  There are other projects screaming for my attention at the moment.
For the Knitters:
Pattern: I made it up
Yarn: Lion Brand Sock-Ease Solids, colorway #178 Snow Cone
Ravelry project page: here
The most pressing new project was a pair of socks for Niece's birthday.  As she too is growing at an alarming rate, I decided that they needed to be somewhat adjustable.  Tube socks fit that requirement, as there is no pesky heel to slip into the wrong position when the foot grows a little.  Since I procrastinated a bit and was uncomfortably close to the shipping deadline, I got out the circular sock machine (aka "Persnickety") to help with the knitting.
Now, Persnickety is rather fiddly when faced with knitting toes and heels – which is how she earned her name.  She drops stitches all over the place.  She also doesn't do ribbing.  But she is a pro at knitting plain stockinette tubes.  Go with your strengths, right?  So, she knit the body of the socks and I knit the toes and cuffs.  She knit two perfect, 15″ long tubes in about 10 minutes.
I then picked out the shocking pink waste yarn at the top and bottom of each purple sock tube, put the stitches on two circular needles, and worked the toes and cuffs.  Voila!  A finished pair of socks, right on time for the birthday celebrations.
I think I'll be repeating that trick to fill up our sock drawers with plain, functional socks in future.  Though the adult versions will get heels inserted into the knitting too.
For the Knitters:
Pattern: there isn't one, use your favorite plain vanilla sock toe and 1×1 ribbing for the cuffs
Yarn: Premier Yarns Serenity Sock, colorway #DN108-01 Lavender Topaz
Ravelry project page: here
For my spinning project, I decided to finally take the plunge and try out the big roll of 100% alpaca fiber that I picked up at the Black Sheep Gathering last summer.  This is a mash-up of all the little leftover bits from several of the alpaca fleeces the shop owner had spun up for her regular spinning fiber line.  It's just the thing for testing out the fiber type before committing to the more expensive stuff.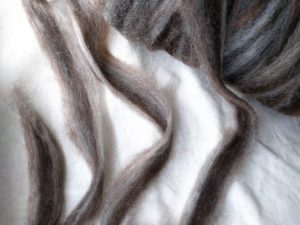 The fiber is already attenuated into a smaller sliver, so it is ready to go.  I love the mix of colors; everything from the palest grey/white, through the range of browns, to deep grey/brown and almost-black.  Alpacas come in 20+ natural colors, and a good quantity of them are represented in this roll.  Here is how it is spinning up into the singles.
The spinning is fast and easy, and the mix of colors is still there in the singles.  I've got 8 oz of fiber, so I'm planning to spin two bobbins and ply them together.  The finished 2-ply yarn should be lace weight or light fingering weight, depending on how much it blooms in the wash.  I'm a little low on knitting projects at the moment, with the skirt and socks finished, so this spinning project is getting a lot more attention.
There's lots more to talk about, but I think that's enough for one day.  There's a project to rip out – but not the one you think – and cast on again.  I might need to cast on for two projects.  There needs to be a mix, after all.  And there's more spinning to do.  It's a gorgeous day; I might take the wheel outside for a bit.  My options are wide open.  Happy Friday!