There's a small spinning mill, called Abundant Earth Fiber, on nearby Whidbey Island that I have had the pleasure to visit.  It's fabulous fun to see how the yarn is made.  (Check out their Instagram feed for short video glimpses into the machines at work.  Mesmerizing!)  I make it a point to stop by the owner, Lydia's booth every time I'm at a fiber festival where Abundant Earth Fiber is listed as a vendor.  It's turning out to be a good bet they'll be at Fiber Fusion NW in October.
At the Fiber Fusion NW event this past fall, I got to pet the newest yarn in Lydia's line – a lovely undyed 100% Domestic Merino.  It's available in three different weights: fingering, sport, and worsted.  I picked up a skein of the sport weight to try it out.  (Full disclosure: Lydia wouldn't let me pay for it.  She asked me to try it and tell her what I think.  What follows is my opinion.)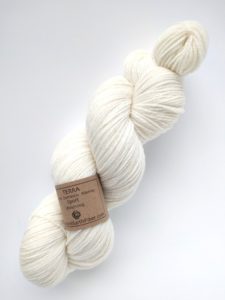 I had an idea for a textured short cowl and fingerless mitts set that would be perfect for a natural yarn.  The sport weight version of this yarn is flexible in that it could be used as a heavy fingering or as a true sport, depending on the pattern.  I hoped that it would look equally well knit at a tight gauge and knit at a loose gauge.  I also hoped that the difference in knit gauge would help me stretch the single skein yardage to complete both projects.
For the fingerless mitts, I chose to knit at a slightly tighter gauge than that typically used with a sport weight yarn.  I used the US 2 circulars that I use to make my fingering weight socks.  I worked a checkered texture pattern for the back of the hand, and simple 1×1 ribbing for the palm.  My goal was to get a dense, stretchy fabric that would be warm and comfortable to wear on cold, rainy days where I need my fingertips free.
I was not disappointed.  This yarn is very bouncy!  As expected, the texture pattern and ribbing, combined with the bouncy yarn, created just the right amount of hug for my hands.  In the photo below, I'm modeling them on my small hands.  To get an idea of the full limits of the stretch, they also fit Husband's large hands.  Nice!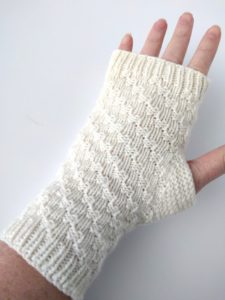 Excited by this success, I was eager to cast on for the much looser gauge of the cowl.  I worked the cowl in the same checkered texture pattern, but on US 6 needles, using the rest of the original skein of yarn.
The finished dimensions are 24″ around x 10″ h.  I love how the knit gauge changed the fabric from firm to drapey without a loss of texture.  This will be the perfect thing to wear as an accessory, or tucked into the neck of my jacket on rainy days.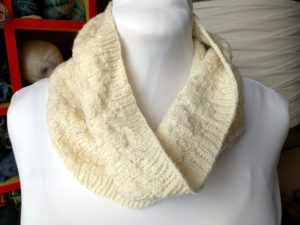 How does the yarn feel?  Bouncy, yes.  But is it soft?  Yes.  I will admit that it's not the softest, compare-it-to-angel's-wings Merino I've ever touched.  It is, however, a pleasure to knit with.  And once the finished items had a bath…now we're talking soft.  Fluffy, snuggly, next to skin soft.  I am going to enjoy wearing my cowl and mitts for a long time.
Final verdict: Thumbs up!  I could totally see this as a good yarn for socks (with the bounce in this spin, there's no need to add nylon), hats, and sweaters too.  Dye it or leave it natural.  Pick a gauge and go.
For the Knitters: