Several weeks ago I signed up to test knit a new shawl pattern written by another designer.  The idea is to follow the pattern and provide feedback to the designer – is the pattern easy to follow, are there errors, how much actual yardage did I use, etc.  I finished long before the deadline, then had to sit on my excitement until the publication date.
The designer's goal with this pattern was to help the knitter create a pretty accessory using just one skein of a variegated fingering (or sock) weight yarn.  The body is worked in an interesting textural crossed stitch, then the border is worked in an easy to follow lace pattern.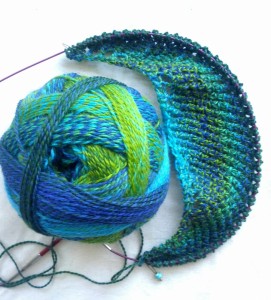 She definitely met her goal here.  All of the test knitters chose a wild skein of yarn to work up the pattern, and all of the finished shawls turned out lovely.  The textured stitch of the body is addictive.  I ended up going several rows too far, because I was just happily knitting along while listening to an audiobook.
The yarn I chose is something that I've been itching to try out for quite a while.  The color progression in the Zauberball doesn't seem to have a defined repeat, which is fun.  Paired with the addictive textured stitch, it was zany fun.  I was forever wanting to knit "just one more row!" to see what the next color would look like worked up.  I'll definitely be using this yarn again.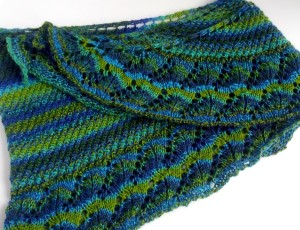 I'm very excited about how the finished shawl turned out.  Now I can't decide whether I'm going to keep it for myself or if it will end up in the gift stash.  There is a holiday coming up, you know.  Hmmm…
For the knitters: