I have gifted a few knit projects in the last several months, so I'll try to play catch-up now.  The first is a shawl for my mom, in golden autumn colors.  She chose Beth Kling's Henslowe as the pattern and it looked like a very intriguing project.
First off, I tried very hard – really, really hard – not to choose a Madelinetosh yarn for this project.  Not that I don't love it as much as everyone else in the country, but I had used it before and wanted to try something different.  Alas, the color was perfect.  Everything else I looked at was just not quite right.  Just a little off.  I understand – that golden yellow/orange/brown color mix is hard.  The Ginger colorway screamed out that it was for Mom.  Sigh.  So I gave in.
From the start, this shawl was a brand-new construction adventure for me.  The cast on stitches are there in the bottom of the garter section.  You start in the middle, then increase until you have most of the stitches along the neck edge.  All the while you are adding handy little yarn-overs at the edges of the garter rows.  That was a fun new trick to figure out how to stitch, but once my hands got the hang of it I was on a roll.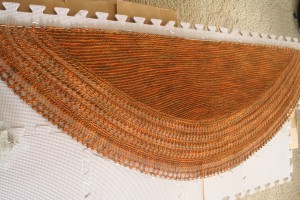 The next section is knit onto the rounded edge in long lace rows.  And that's where the yarn-overs on the edge come in – you just slip your needle right into those, no picking up stitches.  I told you they were handy.  That's my favorite part!  I made a mental note to try it again sometime.
The third and final section is the picot edging knit in short rows picked up from the lace section along the curved edge.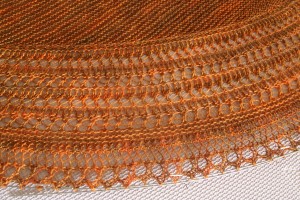 Each section had a technique (sometimes super simple) to teach that I hadn't encountered before.  I loved every minute of it.  And would totally do it again in a heartbeat.
Here's a shot of the lovely model.*  See?  That color is just right for the pattern and the Lady.
*She's going to hate that I posted her pic to the Internet.  Ah well.