Last year was notable for milestone birthdays; a coworker and I both turned 40.  True to our personalities, we differed greatly in how we handled the milestone and how we celebrated.  I resigned myself to feeling my age and gathered a small circle of friends and their families for a low-key backyard hangout.  She was uncomfortable about getting older and needed a more noteworthy party.  We both had a blast.  And that is how it should be.
I decided that it was finally time to make her a little "happy" gift.  Since her favorite animal is the hippopotamus, it had to be hippo-related.  After many hours surfing Ravelry, several starts, and much ripping back…I decided it should be the Happypotamus pattern by Heidi Bears.
Toss in a healthy dose of pink, and you get this…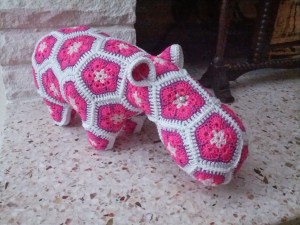 Ya, I know.  Definitely not "me."  It's all "her" though.
A few notes for those of you contemplating this pattern.
Yes, it's a tad spendy.  Yes, it's absolutely worth it.  I'm an advanced crocheter (have you seen my wedding dress?), but this is way past my attention span for fibery engineering.  The pattern walked me right through it all and I never once had to think about how all of those hexagons and pentagons fit together just right to make a hippo butt or oversized hippo nose.  I was happy to pay the designer to figure all that out for me.
There are 40+ crochet shapes that are pieced together to make the hippo.  Yes, you will get tired of making the flowers at some point.  I recommend streaming back-to-back episodes of The Lizzie Bennet Diaries.  It totally helped.
Don't use cotton yarn.  The pattern calls for a stretchy wool/nylon blend.  Use that instead.  Your hands will thank you.
Pay attention to the finished measurements.  Mine turned out approximately 12″ nose to tail.  I blame my faulty centimeter to inches conversion.  Again with the not thinking.
The "join as you go" technique is totally addicting.  You will want to keep going to see how the parts fit together next.  And there won't be enough hours in the day.  It's like knitting with variegated yarn.  Set an alarm and step away from the crochet hook when it goes off.  You'll thank yourself later.
To summarize.  You start with the back legs and hippo butt…
…then add in the parts to make the hugable tummy and front legs…
…and finally the head and massive snout.  Oh, and it's definitely not done until you add the cutest ears ever and the button eyes.  My friend's hippo needed something sparkly for her eyes.  The ones I found fit her perfectly.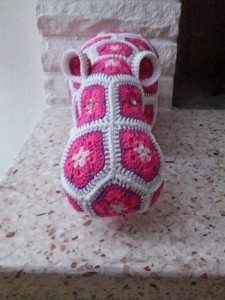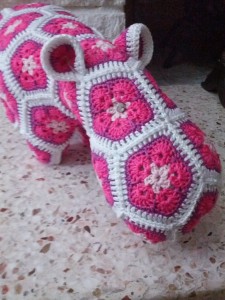 Find a worthy recipient and get crocheting.  This one will be a ton of fun.