I have a small stash of fingering weight yarn in two and three skein quantities that I have been saving for small shawls or summer tanks.  I grab them as I come across them in my wanderings, and they are nearly always in fun colors.  Not my usual, I know.  However, the thought is that in order to wear a sleeveless top here in the Pacific Northwest I would need a cardigan too.  My cardigans are usually in more subdued colors so that the layer peeking out underneath can be a brighter thing.  Or not, depending on my mood.
The Beekeeper's Tank pattern caught my eye as I was wandering through Ravelry this summer.  It was sunny and warm outside, so I immediately went to the stash in search of a suitable yarn.  This top isn't fitted, so it needed more yardage than a pattern with negative ease would need.  I finally decided on the three skeins of Araucania Huasco marinating there since midwinter.  As soon as the blanket project was finished, I cast on.
Look at that color!  You can't help but smile while knitting it.
This was a fast, easy knit.  There is no waist shaping; all of the stitches are effectively cinched in by the smocking cables at the top.  The cable pattern was very easy, and quickly memorized.  The only thing I'm not happy with is the applied I-cord edging.  I saw another Ravelry user work her edging in garter stitch, and I wish I had done that too.  The I-cord isn't bad, I just would have been happier with the garter edges.  I'll keep that in mind for the next one.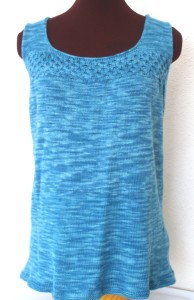 Not to worry though, I've gotten a lot of wearing out of this sweater already!
For the knitters: