Out of the blue I received a text from one of the knit girls:  Feel like taking a quick road trip to Montana and back?  My response:  Sure.  I love a road trip.  🙂
In the end we worked it into a nice five-day vacation.  No need to rush things!  She just had one errand to run to renew her professional certificate, the rest of the time we could do with as we chose.  I had only previously buzzed through the state on our move out to Seattle, so it would all be relatively new for me.
The weather was a little nasty on our way out of Washington (who ordered the dust storm?!?), but was great for the rest of the trip.  Her mom had provided a nice stack of tourist guides, which I browsed heavily from to inform our adventurous choices.
For our first adventure, we hopped off the interstate to check out the shops in Philipsburg before heading on to Bozeman.  They have an amazing candy store there, The Sweet Palace, where we filled up bags for ourselves and some lucky friends.  Philipsburg is also home to several sapphire mine shops and jewelry stores.  I didn't bring home a sapphire, but I did find a local stone necklace that I need an excuse to wear.  This little excursion added some driving time to our day, but was definitely worth it.
We spent an entire day in Bozeman, wandering through the historic neighborhoods and the shops downtown.  There are some really beautiful old homes near the university and the city's main street is really active.  We stopped in Stix Yarn for some local items to add to our stashes – we both decided to take home spinning fiber as well as yarn.  My friend had discovered a small fiber mill was nearby and open to visitors, so she called to ask if we could stop by.  The cottage-sized mill at Thirteen Mile Lamb & Wool Company is amazing.  They process the fiber from their own sheep, as well as fiber from other small farms near and far.  We came away with our heads full of exciting fiber processing info and beautiful yarn.
The next day we drove up to Glacier National Park, entering the park on the east end of the Going-to-the-Sun-Road.  We only had one day to spend there, so we took the entire time to drive the road from east to west and get a glimpse of this fabulous park for future visits.  There was only one disappointment: a herd of bighorn sheep resides inside the park, but we never even glimpsed one.  We did, however, see a bear!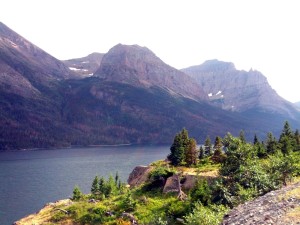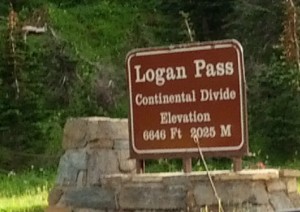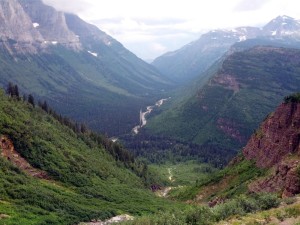 A trip back for a longer stay is definitely on the agenda.  I bet Husband and I could spend several happy days camping and hiking there.  Quick tip: go soon, as the glaciers in the area are expected to disappear completely by 2020!
Before we left Kalispell for home, we stopped at the historic Conrad Mansion Museum for a tour.  This grand mansion was built by the family who founded the city, and is a wonderful example of the period.  It made for a long day, but again it was worth it.  We arrived home the next day refreshed and full of exciting memories.