The latest spinning adventure started with a braid of BFL fiber hand dyed in sections of light blue-grey, olive green, rusty brown, and brown-black.  I decided to try a new-to-me spinning technique to take advantage of the lovely coloring and mix things up a bit.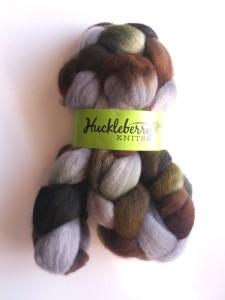 The technique is called fractal spinning, and it is intended to break up long sections of different colors so that they are evenly mixed together along the yarn once the singles are plied together.  The fiber is first split in half along the length.  One half is spun as it appears, and the other half is split several more times before being spun.  I split the second half of my fiber into eight sections.  This makes the color changes happen more frequently on the second half than on the first half.
I am loving how the first bobbin spun up.  Those colors work really nicely together.  Like my other BFL spinning projects, creating the singles went super fast.
Contrast the coloring with the second bobbin.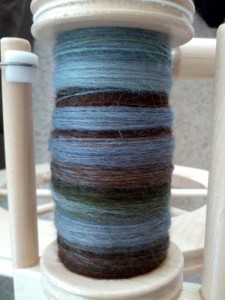 When I began plying the two bobbins together, I wasn't really seeing a difference between this yarn and the yarn I had spun earlier.  It didn't appear to me that the colors were mingling any more than when I had just spun a braid from one end to the other.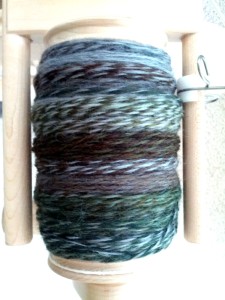 But then I wound the yarn off into a couple of skeins.  Now I can see a bit of a difference.  And I have to say I like it.  Though next time I will ply three bobbins together instead of just two.  I think that will make a bigger difference in mixing the colors.
For the spinners:
Fiber – Huckleberry Knits BFL, colorway Wintergreen
Ravelry project page – here
Next up…I'll be spinning some of the fiber samplers to expand my understanding of the different fiber characteristics of each sheep breed.