If you've been following along for any length of time, it's fairly obvious that I'm not what anyone would call a monogamous knitter.  This is my happy state, in all areas of my life.  Every professional position I've ever held has also been filled with multiple projects going on at once.  Likewise, several areas of the house are in various states of improvement (Husband and I are similar in this particular space – he's got several in progress around the house too).  I will go for short spurts of monogamy to bring a project in under deadline or to ride a creative "flow" state, but then I head right back into the deep end of the project pool.
I try to keep the quantity of projects in actual work within a reasonable number, however.  More than a handful, and some of them are going to be so neglected that they fall off the list altogether.  Not enough, and my interest starts to wander.
The equilibrium state typically lays out like this: one large project, a couple of medium sized projects, and a sprinkling of small projects.  I might have a couple of large projects on the needles, but typically that means that one of them was prioritized above the other and the less important one at the time was pushed to an on-hold status.  Ditto for the medium sized projects.  Simultaneously, I like to have at least one project that is "mindless" – meaning that I don't have to think particularly hard while I'm working it – and at least one that is portable – meaning that it fits in my purse for handy wherever-I-am knitting.  Husband thinks it's funny that I have a special compartment in my purse that perfectly fits a sock or shawl project, and that I have no qualms about pulling my knitting out to get in a few rows while waiting for dinner to be served at a restaurant.  (Or while I'm sitting at the bar sipping a good beer.  You'd be surprised to hear the number of times I've been told by the guy sitting down the bar that he'd love for his wife to come to the pub with him, but she thought it would be too weird to bring her knitting.)
Since the small projects nearly always fit into the mindless or portable categories, or both, they are perfect for fitting in here and there when I need a break from the heavier stuff.  And because they're small, I get nearly instant gratification when working them.
For example…
This cheerful little snippet took longer than it needed to, for the simple reason that I made it up.  I was nearly finished with it, decided that I didn't like how the sections were turning out, and ripped it back to the start of the lacework.  The second time through was much better.
It falls into both the mindless and portable categories.  Mindless, because the lace row is the same on both sides (there is no right or wrong side) and very easily memorized.  Portable, because it used just one skein of sock yarn.  I literally had just one yard left after finishing the bind-off.  Perfect!  I will very likely be making more of these.
For the knitters:
Pattern: I made it up
Yarn: Knit Picks, Stroll Tonal, colorway Springtime Tonal
Ravelry project page: here
Another example…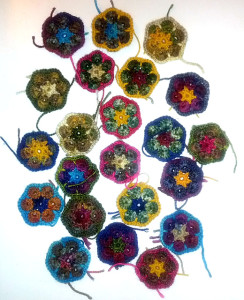 These tiny beauties are like eating potato chips or popcorn – you can't stop at just one.  Each one is just 2″ across, and are using up a good chunk of the ball-ends left over from my sock yarn projects.  I'm trying to make them all different, so it's a lot of fun to pick out which yarns I'm going to use next.  This one is a longer-term project, but because I get a little happy finishing fix with each completed shape it falls into the portable category and counts as instant gratification.
No further details on this project at this point.  Stealth, you know.  Stay tuned.
Also…
Technically, this is a medium sized project – it's a sleeveless top, and will use a couple of skeins of yarn.  But it goes so fast that I'm including it here.  In just two weeks of casual off-and-on knitting I finished the body up to the underarm and the left upper front.  This project is currently in hibernation, however.  Not because I don't love it and want to wear it immediately.  I totally do!  But because I tried it on, and despite lengthening the body at one of the available points given in the pattern it is still too short for my taste.  (Yes, I measured my knitting.  My tape measure is apparently not to be trusted in this case.)  Other than that, the fit is lovely.  So I've reached a decision point: rip it out and start again so I can lengthen the body at every point offered in the pattern, or keep going and just resolve to wear it with a light layer underneath to visually lengthen the hemline.  Until I decide what to do, it's going to hang out in the deep-dive work in progress basket.
For the knitters:
Finally…
These socks are my attempt to invoke the start of Fall weather in the Pacific Northwest, with the accompanying clouds and rain that season ushers in for us.  Honestly.  I am done with temps above 80 F, thanks very much.  And needing to water my veggie garden multiple times a week.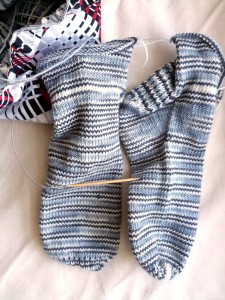 So I'm calling these my Bring on the Clouds Socks.  It worked last week (yay rain! and 65 F high temps!).  Let's see if they can keep that trend going.  Meanwhile, I am absolutely in love with these stripes – I can't take credit, the dye job on the yarn is doing all the work there.  This is totally a mindless, while watching TV in the evening, kind of project.
For the knitters:
Pattern: none, plain toe-up socks with slip stitch toes and heels, calculated to fit my feet specifically
Yarn: Blue Moon Fiber Arts, Socks That Rock Lightweight, colorway Tonalite
Ravelry project page: here
What about you?  Do you have projects that could be classified as instant gratification?