I just realized that I forgot to show you this little spinning adventure.  I'm absolutely shocked that it slipped through, since I am so excited with how it turned out.  I blame the distraction on the adventures that have popped up in the intervening time.
I pulled this braid of a BFL/Tussah Silk blend out of my fiber stash.  I had previously earmarked it to try spinning it using a gradient technique – where one color blends into the next along the entire length of the yarn.  But when I examined the color transitions more closely, I discovered that they were too short to be effective using that technique.  So I changed tactics and decided to spin it using the fractal technique instead.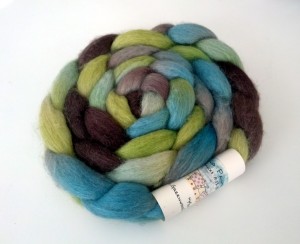 I must have been a little overexcited because here's where things get a tad muddled.  I split the fiber lengthwise into two halves.  One half was wound into a loose ball to be spun onto bobbin #1.  I then split the second half in two.  One quarter was split into 4 balls to be spun in series on bobbin #2.  The other quarter was split into 8 balls to be spun in series on bobbin #3.  The muddled bit is that I later realized that bobbin #3 would be twice as long as bobbins #1 & 2, which would really mess up the plying (I would have half a bobbin of singles left over).  So I split bobbin #3 into two again, making bobbin #4 with the other half.  (Whew!  I think I've got that noted right…)
Spinning the singles was a breeze.  This is my first try at spinning anything containing silk, and I was a bit anxious about how it would affect the outcome.  I had heard horror stories of spinners having to fight to get the silk strands to spin into a stable thread.  No worries, though.  The Tussah staple length matched the BFL staple length perfectly, so that it slipped through my hands just as smoothly as usual and made lovely stable singles.
I then plied all four bobbins together.  The resulting yarn is nicely rounded with a fabulous drape, and just a tiny bit of shine from the silk.  I love how the colors blended together.  I ended up with 350 yards of a fingering (or sock) weight yarn.
Now to find a knitting project that will show it off to advantage.
For the spinners: