For a palette cleanser during the large sweater spinning project, I chose a few more of the little one ounce fiber sampler bundles.  These are quick little spinning adventures designed to help me learn about the different sheep breeds and their fiber characteristics.  One of the Ravelry groups is hosting a little spinning contest where folks can earn entry points per rare sheep breed spun during the given time period.  This sort of thing is wonderful for lighting the fire of enthusiasm, especially for competitive types.  For this adventure I chose the Dorset Horn and Southdown fiber samples.  Both are listed on the American Livestock Breeds Conservancy list of rare sheep breeds.
First up, the Dorset Horn sample.  My sample had relatively long staple length and medium-soft feel.  It spun up easily into strong, stable singles.  I then plied it from a center pull ball – pulling from both the inside and outside at the same time – to make a 2-ply yarn.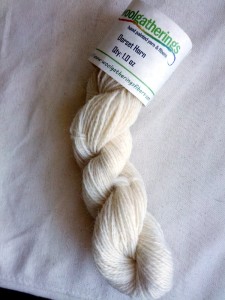 Next up was the Southdown sample.  My little bump of fiber had a medium length staple and was very fluffy.  I found that the fibers were very inclined to stick to each other, though again not as sticky as the Cormo, and the resulting singles were thicker and fluffier than I've been spinning lately.  I made a center pull ball to spin a 2-ply finished yarn.  Though the fiber and the resulting yarn are fluffy and soft-looking, in reality the feel of it is on the coarser side.  I would consider it for warm, lofty outerwear or home goods.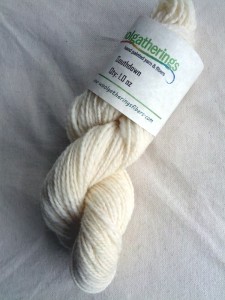 Now back to spinning for the sweater project.  And there's stealth knitting, of course.  We can't forget to make progress on gifts for the big holidays coming up in the next few months!
For the fiber folk:
Fiber:Â  Woolgatherings 28 Breed Fiber Sampler Pack; Dorset Horn and Southdown
Ravelry spinning project page here