Now that the marathon of the cabled sweater project is over, it's time to get started on the large spinning project I was telling you about a few weeks ago.  To recap, I have 12 ounces of a heathered grey and brown BFL that I'm hoping will give me enough finished yardage to knit myself a lovely midweight cardigan pattern that I've had my eye on for a while.  In that earlier post I had spun up a sample skein of 3-ply yarn and knit a swatch that (fortunately!) matched the gauge of the target cardigan pattern.
To get started I took the bumps of prepared fiber and weighed it on my kitchen scale.  Then I divided the number of grams by 12 – which is the number of bobbins I want to spin.  # of total grams / 12 = # of grams of fiber for each bobbin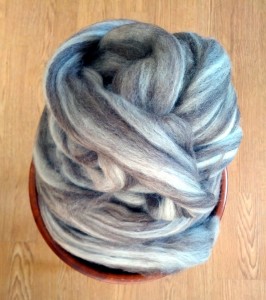 12 bobbins should give me plenty of options to mix them up while plying, so as to avoid having sections that are thicker or thinner.  The goal is for the plied yarn to be as consistent as possible, even if each days' spinning is not.  A 3-ply yarn using a bobbin each from day 1, 3, and 5 should look consistent with a 3-ply yarn using a bobbin each from day 2, 4, and 6.  That's what the experts tell me anyway.
So I took the big bumps of fiber and split them into 12 smaller bumps of fiber, weighing them out on the kitchen scale to match the number of grams given in the formula above.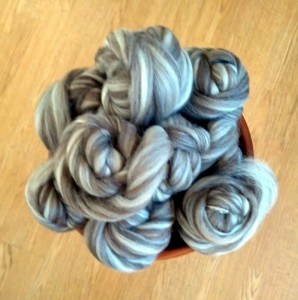 Then I got started spinning.  Each completed bobbin was numbered as it came off the wheel.  When I ran out of the bobbins that came with my wheel, I wound off the singles onto storage bobbins and transferred the numbers over to keep track of the order the singles were created.  These numbers will help me mix things up when it comes time to ply the singles into the finished yarn.
I discovered that I could spin a bobbin in a few hours in front of the TV after dinner.  Weekends allow for longer spinning, so I could spin three or four then.  In just a little over a week I have this lovely pile of 12 bobbins of singles.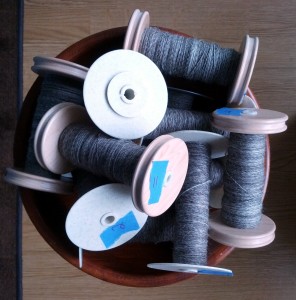 That went much faster than I expected!  What do you think?  Can I get these all plied up in a week as well?