I love knitting worsted weight sweaters.  Why?  Because they go so quickly!  In a couple of knit nights, I have this…
Then in a few more days I have this…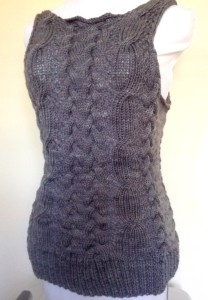 (Wow, that photo is blurry!  I think I need to clean my camera lens.)
All that's left is to sew the sleeves into the armholes of the sweater body, then pick up and knit the generous cowl collar.
Since it's been so long between writing up the pattern for this sweater and knitting it again, I've been following the pattern religiously.  I've only had to add a few notes to make it easier to follow.  Yay for being able to understand what was in my head nine months ago!
Now, to tackle those sleeve seams.