'Tis the season for fiber festivals and craft fairs.  This is my favorite time of year.  The summer heat starts to break, the rains start up again, the leaves start to turn, the wool sweaters, hats, and shawls come out of storage.  Sigh.  Until this week it hasn't been quite cool enough at night to build a fire in the fireplace, but I'm ready for that too.
Last weekend I attended the Fiber Fusion Northwest fiber festival in Monroe, Washington.  This one is still relatively young and growing, and hasn't reached the size and draw of the big Oregon festivals, but it is definitely worth attending.  This year they filled up the event spaces, and spilled over into some new areas.  And they graduated to needing two food trucks to feed everyone on Saturday.  (Plus a separate coffee stand – you can't expect a food truck to do proper coffee for Seattlites.)  Then there was a great list of class offerings!  In true fibery spirit, the most popular ones sold out amazingly fast.  Next year, I'll be on the watch.
The main events on Saturday are shopping in the Marketplace (complete with a large space for spinning and knitting if you need to take a break), the fleece judging, and the fiber arts judging.  Unless you're taking a class, of course.  The breezeway was stocked with a sampling of our favorite fiber animals – llamas, alpacas, two different sheep breeds, goats, and angora rabbits.  There were free, drop-in fiber demonstrations scheduled throughout the day for both days as well.
Every year around this time there is a massive fiber festival going on in New York state.  Maybe you've heard of it?  The New York State Sheep and Wool Festival – or Rhinebeck, as it's more popularly known.  All the cool kids and knitwear designers go there every year.  The popular thing to do when attending is to wear your brand-new, just completed hand knits.  Now, I don't expect to get to go to Rhinebeck anytime soon.  But Fiber Fusion is local, fun, and happens the same weekend.  So I did the next best thing to being at Rhinebeck.  I wore my brand-new, just completed, hand knit cabled sweater to shop at Fiber Fusion on Saturday.  It received many lovely complements, fibery folk being quick to spot a handknit in the wild.  I even was strongly encouraged to write up the pattern and publish it.  I was positively glowing by the end of the day.
Of course I visited the booths of some of my favorite vendors.  I'll spare you the details now – you'll see their goodies as I knit or spin them up.  I participated in the raffle and the easy scavenger hunt.  I ate good food, and made friends with the sheep and alpaca.  I admired the fiber arts submissions (maybe I should enter something next year?) and the fleeces for sale.  I sat in on an alpaca spinning demonstration (until then I was a little nervous about spinning alpaca), and a fleece judging.  And I was happily exhausted by the end of the day.
On Sunday I got up early to go back to the festival for an all-day class on natural dyeing with Janis Thompson from the Eugene Textile Center.  I had managed to grab the last seat in this class at registration.  So glad I did!  It was a whirlwind tour of the basics of fiber prep for the dyeing process, and then into the kitchen to dip various materials into the different dye baths simmering on the stove.  It may be using natural materials, but there's some science involved too.
We made a rainbow that day.  I had previously thought that natural dyes only produced muted colors, and that you had to use acid dyes to produce the vibrant hues that a lot of folks love.  But…  Look at all of those vibrant colors!
We were so excited to hang the panels up to dry.  After lunch the panels were cut into strips – one strip for each of us – and we created the color cards of the samples we had made that day so we would have a reference for future experiments.  She pointed us to reference materials and additional resources if we want to expand our knowledge beyond this basic introduction and experiment further.  Yep!  I'm game for more science experiments.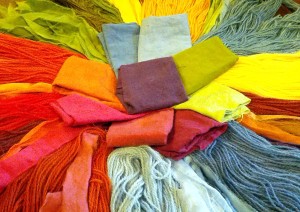 After class I wandered around in the breezeway for a bit, stopping to watch the professional shearer do his work on the BFL and Shetland sheep on display there.  I am in awe at how the sheep just sat there in that awkward position and let him buzz off their fluff.  Also in awe at how quickly he completed his work – someone timed him at just five minutes for the big BFL sheep.  Wow.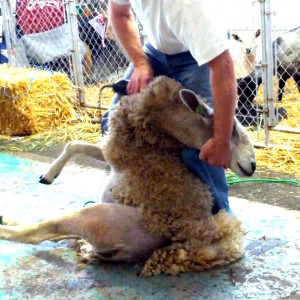 All that excitement calls for a nap.  Where's my couch and cozy woolen blanket?