The Tangled Strands Etsy shop has new stitch marker sets in stock!  Our bestseller stitch marker set is the blue flowers ceramic bead, so I've been keeping an eye out for similar beads in different colors.
For your knitting pleasure, we now have a set of lovely ceramic bead stitch markers with purple flowers.  These are also sized at 8 mm, and come in a set of five.  This size is perfect for either fine lacework or medium weight sweater knitting.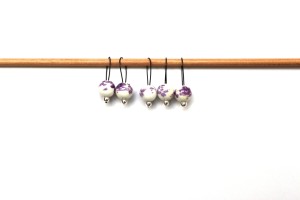 Or maybe pink is more your thing?  This set of five pink floral stitch markers should fit right in.
For something completely different, we have this fun set of stitch markers in a red and white checkerboard pattern.  These are sized just a bit bigger – 10 mm – with a longer loop to accommodate your larger needles.  Just perfect for worsted and aran weight sweater knitting.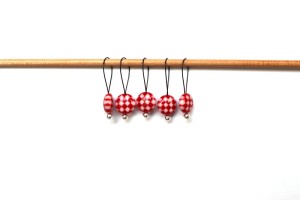 For those shoppers who don't have enough time left in the day to knit up a gift themselves, we also have a selection of hand knit short and long cowls.  Or maybe this new lacy everyday shawl is just the thing.

What's on your wish list?