Remember the drape-front cardigan experiment?  If not, you can catch up with my earlier posts about it here and here.  By now you're probably thinking, "how long could a couple of sleeves take to finish?"  In my defense, you KNOW I'm not a monogamous knitter.  And you've seen all of the other things that distracted me from this project.  That about sums it up.
With the body of the cardigan completed, I decided to pick up and knit the sleeves from the armholes down to the cuffs.  I began by calculating how many stitches around the upper part of my sleeve needed to be to comfortably fit around my bicep.  Then I picked up that number of stitches around the armhole.  I switched to short row shaping to work the sleeve cap, then back to knitting in the round once I got down to the length of the underarm.  I did this for both sleeve caps, then knit both sleeves at the same time just like I would for a pair of socks.  At this point the sweater became perfect for TV knitting again.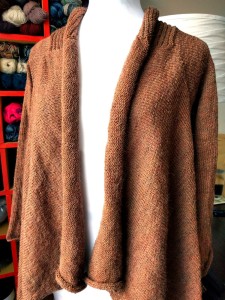 So how did it turn out?  Here it is modeled by my lovely assistant, the dress form.  (She has the better figure and she's so patient!)  As I had hoped, the sleeve openings are generously sized but not as enormous as they appeared in the earlier photos.  They'll be perfect for slipping the cardigan on over a light shirt.
I still love how the front drapes open to the points at the hemline.  I also love how easy it is to close it up to form a cowl neck.  I might add a few loops and buttons to make it even easier to keep closed.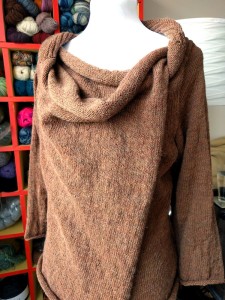 Anything I would change for next time?  Yes.  (Of course!)  I still like the idea of modifying the ends of the ribbing at the collar to form a stepped transition into the plain knitting, similar to the ribbing at the side "seams."  I also think the sleeve/shoulder transition would benefit from rotating the sleeves backward just a bit within the armholes.  That would bring the "line" of the shoulder forward a little and improve how the cardigan hangs across the neck and shoulders.
However, I'm not unhappy without these changes.  Like every test knit, I made a few updates to my pattern notes.  Nothing is so perfect that it can't be improved upon.
So this sweater has now entered regular rotation in my closet.  What's next?  Another lightweight cardigan, of course!  A girl can never have too many.
For the Knitters: