Today the sun is out, the sky is blue, and the plants in my yard are putting out new little green leaf buds.  The hyacinths I showed you earlier this week are well up out of the dirt now, and I expect they'll be in full bloom by next weekend.
As promised, I have also finished the half-pi shawl.  This is the second version of a shawl I designed last year, but was unsatisfied with the result.  I removed one of the lace patterns and shifted the remaining ones around a bit.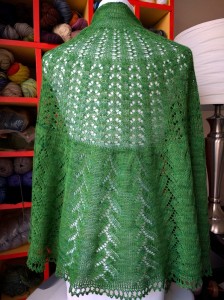 I think this version is a definite improvement.  I like how the three lace patterns flow into one another.  And worked in this saturated jewel green, I'm definitely thinking Spring.
The yarn I used is a merino/silk blend hand-dyed by an indie dyer here in the northwest.  I've been using a lot of her yarn lately.  The combination of yarn base (the materials she dyes onto) and the colors are just right for my taste.
So I'm calling this pattern a success and trying to get up the courage to draft it for publication.  My art/handcraft business friends are encouraging me to add a new branch to the Tangled Strands tree – knitting pattern sales.  They know that I have a short stack of knitting patterns I've designed but am hesitant to share.  It's always scary to put your work out there for others to see and critique.  Though you'd think all of my years in art school, professional design, blogging, and running an Etsy shop would make that easier!
Here's to the start of spring.
For the knitters:
Pattern: one of my own design, working name Lily
Yarn: Abstract Fiber Hepburn, colorway Clover
Ravelry project page: here