I'm sure you've heard how dreary Seattle is during the winter months.  Rainy.  Cloudy.  Oppressive.  Sad.  All totally true.  Which is why I've been loading up on the Vitamin D supplements and waiting patiently for just one at least partially sunny day.  So I can finally take photos of the knitting and spinning.  Because you don't want to see the dark, blurry images that happen otherwise.
I have two finished spinning projects to show you today.  Yes, two!  I've been busy.
The first spinning project took twin braids of fiber and turned them into two skeins of worsted weight 4-ply yarn.  I broke each braid in two, and spun each half per bobbin.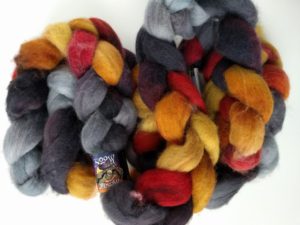 These were super colorful braids, so I had no doubt the finished yarn would be super colorful as well.  I hoped that the colors would mingle quite a bit when plied together.  The finished yarn does not disappoint.
I managed to estimate my singles supply well enough that both skeins are very similar in yardage.  That should make it easier to choose a project using either one or both skeins.
For the Spinners:
The whole reason there is a second spinning project is because this second project just made me so happy the whole time I was working on it.  Shortest spinning project for me.  I guess I was in the spinning zone.  But these colors!  Inky black and gorgeous neutral browns.  Yum!  Right up my alley.
For this project, I split the braid into four smaller strips.  Then I spun two strips per bobbin, just as they came.  I wanted to get a mix of mingling and matching in the finished 2-ply yarn.  As I was inspecting the color repeats and deciding on my spinning approach, I noted that this braid could also have been split and spun as a gradient yarn.  So many choices sometimes.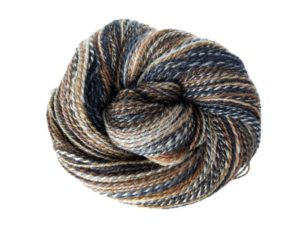 Bingo!  This fingering-weight 2-ply is just what I had in mind for the braid of fiber.  I love how the Corriedale fiber is a little more rustic, matching the moodiness of the colorway.  This is my new favorite handspun skein.
Also, this project might just have kicked me off the super-colorful spinning projects for a while.  I have another braid from this dyer that is not quite as dark, but is just as moody.  That might be up next on the wheel.  Always follow the creative inspirations.
For the Spinners:
Fiber: Dyeabolical Corriedale Cross, colorway Queen's Tea
Ravelry Project Page: here
Did I spin and not knit?  Definitely not.  It's nearly impossible to spin dark yarn in the dark.  Neither my eyes nor my psyche are up for that challenge.  I finished the cowl and fingerless mitts set, and boy am I loving how these turned out.  I'll tell you more about them in a future post.
Does that mean the sweater is finished too?  Nope.  Folks, we all know about Sleeve Island.  Right?  Where the knitting just seems to go on forever and you feel like you'll never move on to the next part?  Yep.  I'm there.  Sleeves, the most boring not-socks-but-still-socks on the planet.  (The sock project is getting more love than these sleeves.  Sigh.)
Here's where I confess that I got distracted.  Tempted to the dark side of project abandonment by a slinky textured thing.  Simple, addictive, deep texture.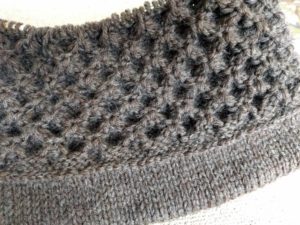 Friends, meet the smocked skirt project.  That photo up there is of the intended right side, per the pattern instructions, which is the wrong side while actually knitting the thing.  The photo down below is of the intended wrong side of the finished garment.  Several knitters have noted that the inside looks good too and that the skirt might be a versatile, reversible wardrobe addition.  I heartily agree.
After reading the project notes for this pattern, I made a major modification of the waistband.  The pattern calls for a simple ribbed waistband, and tells the knitter not to worry about this as the intent is for the negative ease of the fabric around the hips to hold everything in place.  Most who finished the project agree that this is what happens, but they don't like how they feel about the waistband not actually doing this job.  It's probably similar to wearing tight, low rise jeans and feeling like you need to pull them up all the time.  So I worked a knit tube for an elastic waistband instead.  We'll see if it works.  It could either be an improvement or a spectacular fail.  I'll be sure to report back.
Mom will note that this project, too, is in a tweedy brown yarn.  Further proof that I may have fallen back into my old neutral comfort zone.  If you need a pick-me-up after reading about all of that brown, I offer up this glorious scene from my back door just three days ago.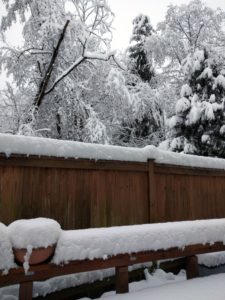 There was one partially sunny day in between, in which I scrambled to collect all of the projects for a photo shoot.  Today is thunder (never happens here!), pouring rain, and wind.  We have been "rescued" from fun snow days by the Pineapple Express.