Yes folks, we tied the knot.  We are officially Mr. and Mrs. G.  It was a tiring effort for such a small ceremony, but it was so worth it!
For those of you who haven't been following the details, I'll fill you in.  We got married on Mount Hood in Oregon, at the very intimate Silcox Hut situated at about 7000′.  The snow was sufficiently melted to give us a small clear space for the ceremony right outside the door of the hut.  This is the view: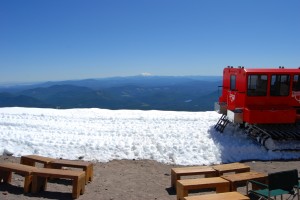 We couldn't have custom ordered a better day!  The sky was so clear that we could see for hundreds of miles, without the usual haze that accompanies such views.  The temperature was so warm I didn't even need my long sleeves.  The only person complaining (just a little bit) was the photographer who was trying to capture some not-so-washed-out photos of our event.
My brother was my Man of Honor and Mr. G's brother was his Best Man.  They were very helpful in performing their duties, though they were both extremely relieved to discover that they wouldn't be required to give a toast.  Here is my brother helping out while I do my hair.
And here is my little man entertaining himself with a book while the adults do their getting ready thing.  Actually, this seems to have been his theme for his visit with us this summer – he was hardly ever without a book.  He read 6 (!) books this size over the four week period.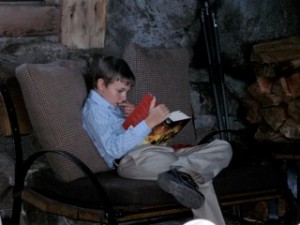 Our guests rode up to Silcox from Timberline Lodge in the red snowcat you see in the photo above.  After the ceremony we all went inside for dinner.
For those of you following my knitting projects, here is a pic of the finished dress in action.
For those of you not following my knitting projects, yes, I made the lace overlay portion of my wedding dress.  It was a wonderfully fun project, and very adventurous on my part.  There was no pattern – I made it up as I went along, going by the picture I had in my head for what I wanted it to look like.  From start to finish, it took me three solid months, during which time I didn't work on any other knitting or crochet project.  I crochet it using a basic pineapple stitch pattern and lace weight merino wool.  It turned out exactly as I envisioned and was perfect for my personality and my day.
We spent the night at Timberline Lodge and joined our families for brunch the next morning.  Mr. G got in a couple of hours of snowboarding before our leisurely drive back home.  We haven't taken a honeymoon yet – the week off before the wedding for our staycation exhausted my vacation time – but have plans to work in a trip or two before the year is out.
I'll leave you with a little tongue in cheek photo of the happy couple post-event.