Similar to Spring Fever, Autumn Fever has hit with a vengeance.  We really only got about a week or so of actual summer this year, so I've happily skipped on to Fall a bit early and switched out a portion of my wardrobe accordingly.  No, I'm not making this up.  Several of us witnessed actual healthy live trees with fully turned leaves yesterday.  I knew my internal nesting clock wasn't wrong.
Almost as soon as the wedding dress was finished and the guests gone I started my fall and holiday knitting/crochet projects.  I'm back to having several projects going at once.  Yay!  This is my natural state, since it allows me to have things of differing difficulty and technique going on at once.  I pick up to work based on my mood, not what happens to be on the needles at that point in time.  If I want something challenging, I pick up project A.  If I want mindless TV work, I pick up project B.  And so on.  It works for me, at least until the deadlines loom.
So here's what I have going on for the second half of this year so far:
I cast on a lovely spinach green yarn for a pair of moderately easy lace and cables socks (Ravelry link).  This pair is for me, to add to my sock stash.  The pattern is easy enough to count as commuter knitting, but interesting enough to take to Knit Nite if I have nothing else portable on the needles.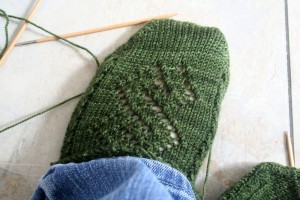 Though I've discovered that my cute small project bag is just slightly too small for two-at-a-time socks.  On the lookout for a slightly bigger small project bag to add to my wish list that will fit this purpose.  I could make one myself, but there's no room for that in my project list!
This watch band replacement (Ravelry link) project was a quick Sunday afternoon knit.  I had been looking at the bracelet project page for a while, thinking about whether I would actually wear a bracelet, when I had the idea to modify the pattern to thread through the band slits on my watch.  I just used a bit of the sock yarn left over from my mom's sock project last year.
I'm more than happy with how it turned out.  The color works with the majority of my wardrobe and the band is super comfortable to wear (not to mention much more attractive than that nasty velcro thing).
I discovered that some good friends are pregnant with their second daughter, due this winter.  I made them a neutral colored cabled blanket for the first one.  She was so happy with the color that I decided to repeat it for this daughter too.  I finished this easy lace blanket (Ravelry link) last month and washed and blocked it last weekend.  I'm very happy with how it turned out and the fact that I'm finished several months early.
I also started a large stealth crochet project for holiday gifting.  No pics here, since the recipient is a devoted reader of this blog.  My knitty friends know how to see the details.  It's a little over halfway finished now, and is my mindless TV project.  As it grows, each round is now taking just under an hour of TV time.  Guess that's a trade-off for distracted crochet.
Last weekend Husband and I went yarn shopping for another stealth knitting holiday project.  There are several things I don't like about the yarn we found, but I think I'm going to be happy with the finished project anyway.  My frustrations are technical in nature and have no bearing on whether it is suitable for the project and will make the recipient happy.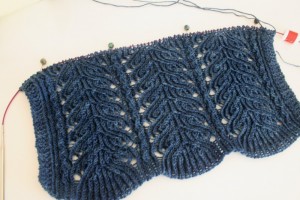 I chose an advanced level pattern for this rectangular shawl project (Ravelry link) and was a little scared of all the twisted stitches when I began.  But now that I'm well into it I can see their benefit and my hands are quite used to working them.  Scary hurdle safely crossed.  This is my challenging project, so I thought it would be difficult to multitask while working on it.  I have successfully attended two knitting groups while working on it, so I guess it's not all that bad.  I'm very excited about how it is turning out and can't wait to see how the twisted stitches pop the swirl pattern once it is blocked.
This weekend I tagged along with some knit girlfriends to a small fiber festival on a nearby island.  We had a fabulous day and I picked up some yarn to knit up another pair of socks.  I think these will be plain, since there is so much color variation.
The moms who went with us thought I should use it nearer my face, since the color agrees so much with my hair color, but I think I'm sticking with socks.  The dyer is local, so I can always get more if I want a scarf or shawlette in a similar colorway later.
That's enough for now, don't you think?