I may not be as speedy as some knit girls I know, but I'm still making progress.
I finished the spinach green Lace and Cables socks.  These are from the Socks from the Toes Up book by Wendy Johnson, in Abstract Fiber's Supersock in the Spinach colorway.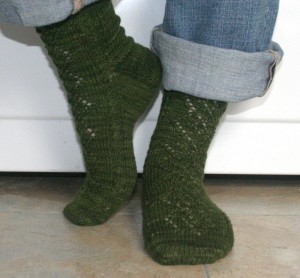 I thought the yarn might be a bit splitty when I cast on and knit a few rows, but it turned out not to be so.  I'm really happy with the results and can't wait to wear them now that they've softened up even more in the wash.
I'm also just past the midway point on the Mehndi shawl.  This is my regular knit night knitting project, though I do make sure to get quite a few rows in on the weekends.
I have completed one whole side panel and the center panel now, and am a handful of rows into the second side panel.  The center panel has twisted crossed stitches that made me scratch my head a bit until I figured them out.  The pattern doesn't really cover how to do these in detail, so I did a little Internet searching.  Really, they're just crossovers, with a twisted stitch or two thrown in to make it that much more "interesting."  (Read: make you pay attention.)  But still not a big deal once I figured it out.  Add one more skill to my resume.
A note about the yarn that we chose for the Mehndi shawl.  It is Swans Island's Certified Organic Merino, fingering weight.  The yarn is lovely, though I did curse it several times when winding it up.  It has the perfect drape for this project and I can tell it will wash up to a very soft finish.  Alas for my poor hands, it is dyed Indigo.  Leave it to my husband to pick the one color that loves to share.
These blue-stained hands are the result of casting on 97 stitches, then knitting eight rows.  Eight!  So, there are multiple baths in this shawl's future (and for my poor hands!) before I gift it to the recipient.  Filing that away as a lesson learned too.
Since I finished my commuter knitting project, I cast on another one.  I'm giving in to the urge to knit a slouchy hat that I can just pile my hair into on a bad hair weekend or weeknight.  I had some Rain City Fiber Arts Whidbey Sock hanging out in my stash.  This has a bit of cashmere in it, which likely contributed to the urge to rescue it from the local yarn shop.  The cashmere content was also keeping me from wanting to put this particular sock yarn on my feet.  Sockhead Hat pattern to the rescue.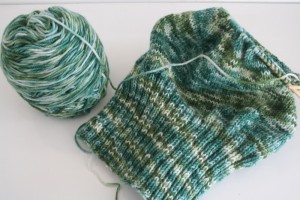 I've completed the ribbing and am halfway up the body of the hat now.  This pattern is so easy and fast that I'll likely be finished by the end of this workweek.  Which is a good thing, because there is a skein of sock yarn already queued up for the next pair of commuter knit socks.
I'm also still chugging away on the large stealth crochet project for holiday gifting.  It's a good thing that crochet is so easy to put down in the middle of a row/round.  I find the rounds are taking much longer than a sitting now.  Which means I'm nearing the end.  I estimate less than 10 rounds left.  I'll be finished in time for gifting.
One of last years "extra" holiday projects were three crocheted snowflakes which I attached to three special packages.  I knew the recipients would instantly recognize them and understand how special they are.  And they did, which warmed my heart.
One of the recipients has requested that I create several groupings of crochet snowflakes so that she can share them with her community this holiday.  So I am sprinkling in creating a snowflake here and there when I need a break from the other projects I've got going on.  No pics yet, as an unstarched snowflake looks like a hopelessly tangled mess of nothing.  They'll be beautiful when blocked, promise.
Is it snowing at your house yet?