I'm behind on showing you several finished objects (FO's).  I still blame the boxes.
I finished the fairytale cape in plenty of time for my niece's birthday.  I even managed to find some white fun fur and a sparkly button to finish it with.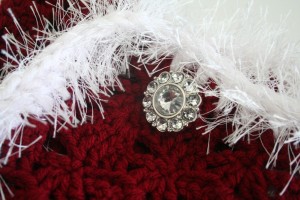 It turned out just the right size for her right now.  I hear from family who were on the spot when she opened the gift that she put it on right away, twirled and posed and flitted around, and refused to take it off.  I think that means it was a good gift.
The stealth gift for Mother's Day was a set of dish cloths and tab-top towels.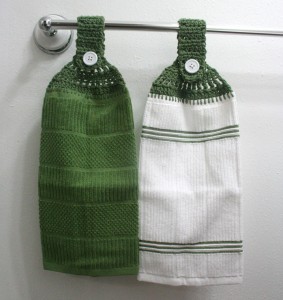 That doesn't sound very exciting for most folks, but Mom is a fan of tab-top towels and is now a convert for knitted dish cloths.  My great-grandmother also loved tab-top towels and made several for everyday use.  Mom inherited a few and has been gingerly keeping them lest they fall to shreds.
I guess this is another of those things I've picked up from Mema that will be carried into the future generations.  (Family swears I make peanut brittle just like she did.  It's become a holiday tradition for me to make a batch.)  One of these days I'll figure out how she made the doorknob Santas that were all over her house and ours during the holidays…
I also finished the brown ribbed socks that were begun in the last bout of startitis.  The rib worked perfectly and makes these socks wonderfully snug and very warm.  Summer didn't really start until July 4th, so I have been making good use of them.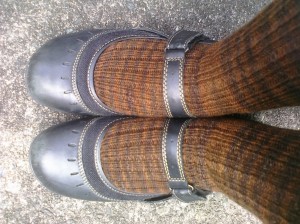 Husband's striped socks and the cozy sweater were put into hibernation while we packed and moved and unpacked.  The socks will likely come out again, now that things are settling down, but it's unlikely that the sweater will see light until after the holidays.  Gotta get the gift stitching going, you know.