Here in the Northwest, cardigans in every shape, color, and weight are the norm in every well-stocked wardrobe.  In the winter they add a cozy warm layer, in the spring and fall they guard against the temperature swings, and in the summer they take the place of a light jacket in the air conditioning or the cooler evenings.  Without the ever-present cardigan, we would rarely get to wear the cute sleeveless tops hanging out in our closets.
I don't know about you, but my office building is a freezer.  I've been really coveting a lightweight sweater that two knit girls I know have made.  But two things were holding me back – the fact that it's a sweater and that it takes a sweaters worth of yarn.  To date, I've not made an adult-sized sweater, and that much yarn is rather pricey if you're not sure it's going to turn out well.
Then my friend Heather spun this.
It's a sweater+ worth of lace weight yarn in a super fun teal/blue/purple variegated colorway custom dyed just for her spinning joy.  She named it Darkness.  It's just my colorway.  The perfect weight for that light sweater I'd been coveting.  And did I mention it is a merino/alpaca/silk blend?  Yeah, just as soft and petable as you imagine.  It was mine as soon as she finished it.
So I reasoned with myself that if I could custom design and execute a wedding dress and all those complicated lace shawls, then I could follow a sweater pattern (with a few easy modifications).
And then I knit this with that yarn.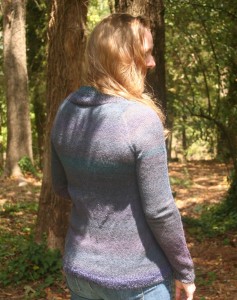 This pattern is the Featherweight Cardigan (appropriate, huh?) by Hannah Fettig.  As written, it is high-waist length with three-quarter sleeves.  Like several others, I made mine longer and with long sleeves.
That bright blue stripe there that continues a bit across each arm?  That was a happy accident in the yarn striping.  It did it again along the edge of the neckband.  I can't really take credit for it.  But I get excited when folks tell me how wonderful it is.  I love it too.
This sweater was so much fun to knit, especially with the long stripes in the yarn.  It has become a staple in my cardigan wardrobe.
Now I just have to figure out what to do with the leftover ball of yarn.  Maybe a round crochet lace shawl would show off those subtle stripes quite well.  Hmmmm.