Fiancé and I decided to take a quick trip to Portland and the Mount Hood area this weekend.  He has been snowboarding several times at the major ski areas on the mountain and wanted to show me around.  The minor reasons for going were to briefly see his good friend who lives in Portland, scout out a potential wedding spot, and introduce me to an area where we will most likely make regular trips.
Of course, we went to the mountain first!  Actually, it's a volcano…you can see that it easily dwarfs all the mountains around it…and is one of a chain of volcanos running along the cascades that includes Mount Jefferson, Mount St. Helens, Mount Rainier, and Mount Baker.
The drive up to the mountain was pretty impressive.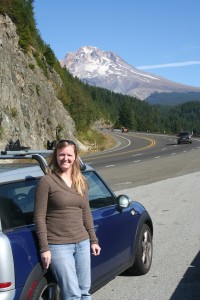 Fiance loves to drive the Mini in the curves.  I'm pretty sure he was in his happy place on this trip.  Wheeeeee!
We could begin to make out the year-round snowfields as we drove up to Timberline Lodge.  If the height of the poles on the sides of the road are any indication, the snow gets fairly deep here.  (I know, understatement.)
I discovered that Timberline is a year-round ski resort, only closing for a couple of weeks at the end of the summer for maintenance.  Fiance pointed out that there were quite a few little skiing and snowboarding dots up there on the snow.  He also pointed out that yes, this is the lodge used for the exterior shots of the building in the movie The Shining.  I'm ignoring that little tidbit of information – not into horror movies.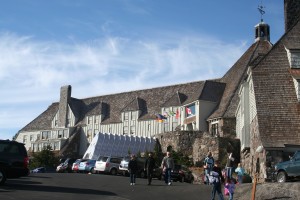 We chose to eat at the lodge's delicious brunch buffet and explore the lodge and surrounding grounds instead of playing in the snow.  There were lots of hikers, picnics, and wedding parties.  We were also checking out the lodge as a potential wedding spot.  It appeals because of the great views of the top of Mt. Hood, as well as views of Mt. Jefferson in the distance.  The interior of the lodge itself is also very beautiful, and offers several wedding options.
Afterward, we descended and drove around the back side to Hood River, taking in views of Mount St. Helens along the way.  We explored a little yarn shop there and drooled over some kayaks.  Then we headed back toward Portland on I-84 along the Columbia River, stopping at Multnomah Falls for an exhausting hike.  (More on that later.)
We got a recommendation for dinner at Screen Door, a little spot offering an updated version of comfort cooking.  Yes folks, they know how to do some fried chicken and mashed potatoes.  The next morning we went to Bertie Lou's for an awesome diner-style breakfast and hot tea before heading over to the downtown area to spend several hours in Powell's City of Books.  Powell's is fabulous, if you're even a tiny bit bookish.  Its size was a bit overwhelming at first, but after I found the craft section (right next to the front door, conveniently) and spent a large amount of time perusing those shelves we systematically tackled the rest of the multi-story store.  Baskets and a lot of time to shop are a necessity – we came out with three bags of purchases.  Yikes!  We then replenished our energy reserves with dinner at Henry's 12th Street Tavern and headed back home.