This spot is so beautiful, it deserves its own post.  We arrived at Multnomah Falls in late afternoon on our way back to Portland from Mt. Hood.  (see Mt. Hood post for those pics)
There is a viewing platform at the bottom, just past the restaurant and gift shop.
Then it's an easy walk up to the bridge at the level of the upper pool.  There is a story posted on a plaque here that tells of a bus-sized boulder coming loose, falling into the upper pool and drenching an unfortunate wedding party who had stopped to take photos on the bridge.  This prompted Fiancé to comment that we should stop there for pictures and to tempt a drenching fate should we choose to hold our wedding at Timberline.  Uh huh.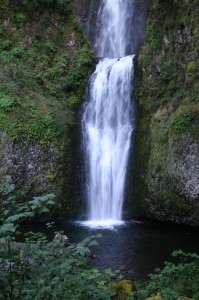 The signs told us it was just a mile hike to the top, so we started up.  Just so you can get an idea of how steep that mile to the top is, take a look at the overall photo of the falls and this sign for the height.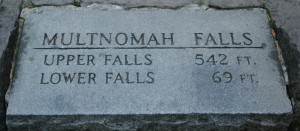 Yeah, that was a grueling walk up.  At least it was paved and had posts every so often to tell you how far you'd gone.  Near the top the sun started to set behind the mountains, so we pushed even harder – which is probably what made it so terribly grueling.  But I really didn't want to walk down those switchbacks in the dark.