I know.  We're several weeks into the new year.  Not me though; I've been on vacation!  We welcomed in the new year along with everyone else, but it didn't really FEEL like the new year yet.  Know what I mean?  Now that we're back home, I think I'm ready to really get started on this year.
And can I just say…I am SUPER glad to see the back of 2014.  Whew!
The gift knitting was completed just in time this year.  I don't know what happened to the schedule, but suddenly there appeared some unplanned additions and substitutions.  It all worked out in the end, as per usual!
I knit a fun baseball season scarf for Husband.  This one commemorates the 2006 St. Louis Cardinals season, in which they won the World Series.  Two rows of knitting equals one game, with the color representing either a home or away win/loss.  The colors go like this: Red = home win, White = home loss, Blue = away win, Grey = away loss.  I had a great time knitting it, and he is having a blast showing it off to his friends.
Also for Husband, this time for his birthday, Persnickety helped me knit a pair of socks.  Exciting, right?!?  We actually managed to knit a whole pair of socks!  And they fit!  These are ankle length socks, (as opposed to the hand striped, knee-high socks of doom) because Husband prefers those for everyday wear.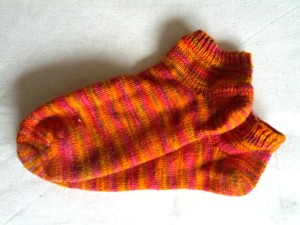 One of my aunts made a special request for a cat nest, because you know kitties just love to snuggle inside cozy, dark places to nap.  I based my nest on a published pattern, but heavily modified it – making the opening bigger, and leaving an opening in the top so the kitty siblings could torment each other.  No action shots as of yet, so I'm hoping the cats are just camera shy instead of being scared of their new toy.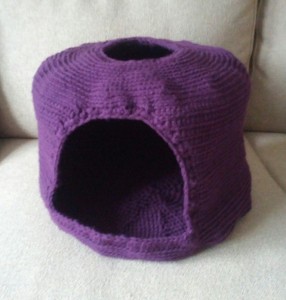 My family relayed to me that my niece was overheard to say, "I wonder what Aunt Carrie is making for me this year."  Well you know I couldn't let that go unrewarded.  However, it took a bit of a search to find just the right thing.  She's seven now, so I wanted something that was 'young girl' without being 'little girl.'  I think I found it.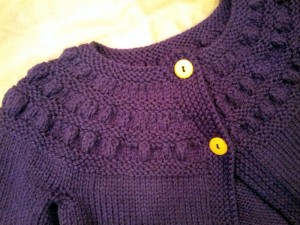 She was properly enthusiastic during the unveiling (always gratifying), and it looks like the weather this week complied in making it not too warm to wear it.  The sizing turned out perfectly – just big enough that she'll get in at least a couple winters of wear.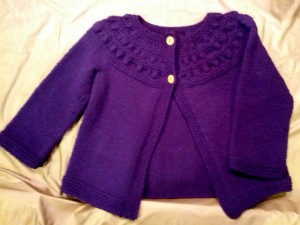 The last bit of knitting magic for this season was for another aunt.  I agonized more than a bit on what to do for her.  Should I knit her something, or do I choose one of the items from her published wish list?  What to do?
In the end, I decided to visit the stash and let it tell me if there was something there that was singing out to be hers.  Note to self: that was the right decision.  I had left it really late, but this pattern and this yarn were meant to grace my aunt's shoulders.  And so they just flew off the needles!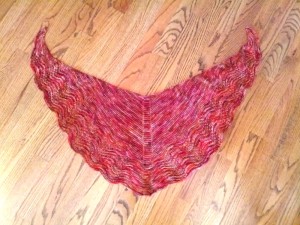 Now I'm kicked back with the first fire of the year warming my toes and my selfish knitting warming my lap.  Sigh.  This feels like a good start.