Here are some of the things I worked on in October.  Some are finished, many are still in progress.
My Blue Leaves shawl, still in progress but the end is now in sight.  Just a few more repeats…
A cable knitted sleeve for my Kindle.  I used some stash yarn and made up a pattern for this and am loving how it turned out.  This is much better than the plain leather-like thing that used to store it.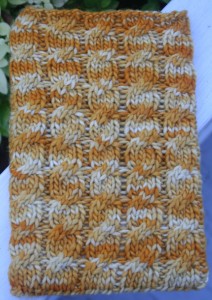 A cozy for my bottled beverage of choice.  It was necessary…my fingers are cold already without my beverage adding to the problem.  I call it my beer sock.
The striped hat for a fabulous lady.  Turns out that she's really happy with the final version and even wore it to the office last week!  She sent me a photo and I couldn't be happier with how well it looks on her.  Now that I've figured out the pattern, I'm toying around with the idea of making another one for my new Etsy shop.
The beginnings of some toe-up socks for holiday gifting.  I'll have to rip out and start over in the smaller size, since my gauge is turning out a sock that is 1″ bigger than intended for the size I was working.  Sorry, but I have a mental block when it comes to using anything smaller than a US 2 needle.  No problem, I hadn't gotten very far anyway and it was going very quickly.  I think I'll still make my deadline.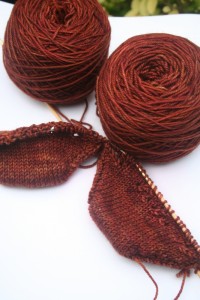 A test swatch for a mohawk hat for a friend.  The body and earflaps will be worked in the royal purple shown here, with black I-cord ties and mohawk to finish it off.  This is going to be a really fun project!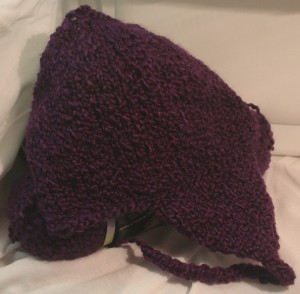 And this is the reason I don't have more of these pieces finished.  My Halloween project.  I got a wild hair…literally…and thought this knit/crochet wig up at the last minute for a party we attended on Saturday evening.  It sparked lots of fun conversation, which was one of the goals.  This one is going into the costume stash to use again.  And if you're wondering, yes it was heavy, but it was worth it.  I had a blast making it and wearing it!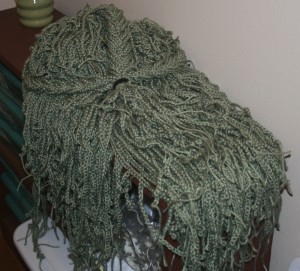 I also spent quite a chunk of October working on setting up an Etsy shop for some of my earlier finished work.  Between the research for setting everything up just right, to taking acceptable photos of everything (the weather has turned to rain now, so good light is at a premium), to setting up the shop and listings and going live, it was a lot of hours behind the scenes.  So now you can check out my new shop!  Right now I'm showing a line of crochet scarves, but I have plans to add more items as things go along.
Even though I didn't finish as many projects as I would have liked, I'm still pretty happy with October's productivity considering all the one-time distractions.