Seriously, look out.  Because now I'm dangerous and enabled.  I have gear.  It's all Fiancé's fault…and a tad bit REI's.  You see, the nearest REI store was having their member-only garage sale today and I just happen to be a member (remember the new hiking boots?).  So I suggested that we go see if we could snag some snowboard gear for me.  It's his fault because he's a long-time snowboarder and is super excited that we're close enough to day trip to several ski mountains every weekend this winter.
Notice the "WE" there.  Newbie me, with only a few lessons, gets to snowboard every weekend.  Woo hoo!  I'm gonna be so bruised from falling on my tush all day that it'll probably take until the following weekend before I'm healed again.  Ha!  It'll be fun!  Seriously!
Also note that I'm scoring some major cool mom points for this little adventure.  But I digress…
The garage sale was a bust for me, since there was nothing left in my size, but he managed to get some very good deals.  So I tried on some snowboard boots from the full price racks and found a pair that feels good.  Apparently I have very narrow heels that tend to slip if I don't get them laced tightly enough, so the very knowledgeable sales associate directed me to some that are designed more with people like me in mind.  Then Fiance found a barely-used board with bindings on Craigslist and picked it up later this evening.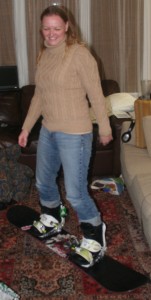 With some easy minor adjustments I'm all set, minus the helmet and goggles.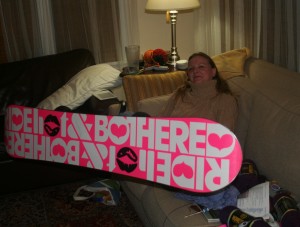 Yes, the bottom of the board is pink and girly.  I know.  With a suggestive phrase, no less.  But it was cheap and I'm a newbie.  I'll upgrade to a board that isn't tainted by the color pink whenever I get good enough to call myself a snowboarder.  Until then, Fiancé is sure that this will be a good way to pick me out of a crowd when I'm sitting (falling down) in the snow.  I note that this only works if every other girls' board isn't violently pink on the bottom.
(My knit friends will also note the yarn explosion that has taken over three-quarters of my couch.  That's leftover yarn from one finished project, and three projects in progress.  Fear not, Fiancé has his own couch and that's his yarn explosion taking over half of the side table.)
Bonus: The first snow of the season fell in the Cascades today.  Look out below!!!  I'll be falling…I mean gliding…down the mountain soon.