I think I've hit a bit of a writer's block wall this week.  All the things I have to tell you about are super secret!  I'm itching to show you, but…  Why would you want to see the gifts before they're gifted?  (I never understood the kids who would peek under the wrapping paper, and therefore had no surprises left on Christmas morning.  I never peek.  I prefer the surprise.)
So, you may ask, am I working on something that isn't super secret?  Yes.  Of course I've got lots of different projects going.  Let's see…
There's the spinning project with the oatmeal colored BFL.  You saw the first wave here.  The second half of this project isn't much different.  I'm working on spinning up singles bobbin number 10 out of 12.  There has been so much other activity going on the last two months that this portion of the project has slowed down considerably.  Even though I'm so close to the finish line, I'm going to have to put it aside until the new year.  Gifting deadline coming up, you know.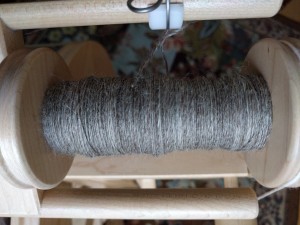 I have recently rediscovered embroidery.  I know.  I needed another creative outlet, right?  Here's a progress shot of my first project after a looooong time off from hand stitching.  This is a design I found on Urban Threads.  I'm loving how the stitches are turning out.  I'm using a chain stitch as a "fill" for each swirl, and leaving the negative space between them blank.  Hopefully the overall effect will be lacy and delicate, rather than unfinished-looking.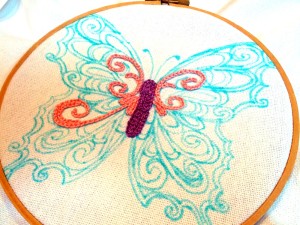 I have also been working on testing another designer's pattern.  Here's a sneak peek from when it was in progress.  Texture + lace.  Lovely.  I'm waiting for the pattern to be released, then I'll tell you more about the project.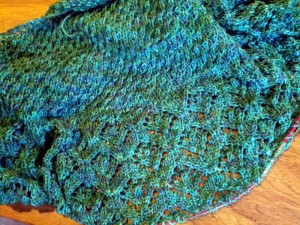 What else?
I created a deep cowl using the pattern from my cabled sweater project.  It is squishy and soft and luxurious.  The only problem is that I knit it in a creamy white merino yarn that is hard to photograph.  Sometimes the camera and I are friends, and sometimes we are decidedly not.  I'm really happy with this project though, and may even be inspired to write up the pattern.
Oh!  There's also the revised version of my spring shawl design.  Remember how I didn't like some of the elements?  I reworked the charts and cast on for another sample.  This time in a lovely jewel green.  I'm working a row or two here and there between my gift projects.  This one will go into the pile of travel knitting for the holidays.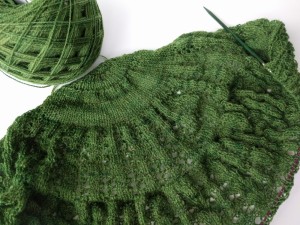 I also need to perform a bit of surgery on a former gift.  It seems that one of the family dogs thought my niece's monster toy was his to play with.  Unfortunately, one of the scales was pulled off in the fun.  Even well-worked stitches are no match for a canine's teeth.  So she asked me if I could fix it.  I brought it back home to my studio – where I'm sure I have some of the leftover pink yarn somewhere – to fix it up so I can bring it back to her at Christmas.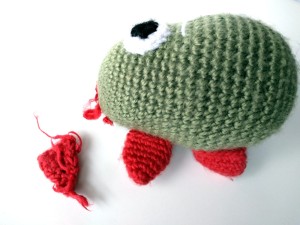 So I had a lot that I could show you after all.  Now, back to work on those super secret gift projects!