Happy New Year!  I hope everyone enjoyed the holidays as much as I did.  To be honest, I wasn't enjoying it much in November and December when I did the thing that I told Husband I wouldn't do this year – wait until the last minute, then cram a bunch of gift-making projects into the last few weeks.  Ooops!  But every one of them were finished in time.  Then I was able to enjoy the last two weeks with my family stress-free.
Want to see what I made for gifting this year?
First up, there's a shiny new pair of socks for Husband.  Typically I like knitting plain socks because I can pick them up and put them down without worrying about keeping my place in the pattern.  They're also super portable.  Knit a round here, another there, and eventually you get to the end.  But these went on for so long (his feet are twice as big as mine) that I nearly ripped them out and made Persnickety knit them.  However, I persevered.  Not because I don't want to use my handy dandy circular sock machine, but because I wanted to work a heel flap to see if it would fit better around his ankle.  Persnickety can't do a gusset and heel flap.
The verdict?  The additional stitches and the heel flap were successful.  No tugging or slouching around the middle.  Not so successful?  My being able to gauge how tall to make the socks without being able to try them on his foot.  I was aiming for the socks to stop just under the bulge of his calf, since he wants to wear them with his motorcycle boots.  It turns out that his heel to calf height is longer than his heel to toe length – which is not the case for everyone else I've measured.  Lesson learned.  I'll be ripping out the bind off and adding to the ribbing at the top.  Then they'll be golden.
Pattern:Â  my go-to plain sock, stitch count adapted to fit his gigantic feet
Yarn:Â  Knit Picks Stroll Tonal, colorway Goldrush Tonal
Ravelry project page:Â  here
For my Mother-in-law, I worked my new crescent shawl pattern in a vivid spring green – her favorite color.  Thankfully, winter has now descended on her city so hopefully she'll get some good wear out of it.
Pattern:Â  I made it up; thinking of calling it Bluegrass (?)
Yarn:Â  Knit Picks Stroll Tonal, colorway Springtime Tonal
Ravelry project page:Â  here
Remember the butterfly embroidery project I showed you in the last post?  Well, that turned into this…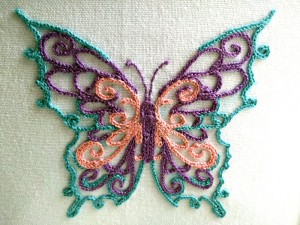 Not too shabby for a newbie attempt, if I do say so myself.  I'm very proud of how it turned out.  My niece was very excited about receiving it, and oohed and aahed appreciatively.
Flush on the victory over the stitched butterfly, I tackled another embroidery project.  This time I worked a dove pattern from Urban Threads in stem stitch throughout.  I loved the first one so much I made two more.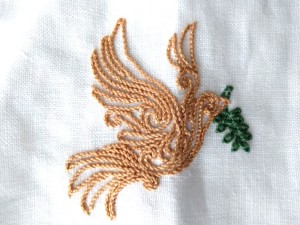 (Terrible photo, I know.  This was taken just prior to blocking, ironing, and framing.  It seems I forgot to take finished pics this time.)
Framed in a complementary color, these went to new homes as couples gifts.  My family are so used to receiving knit and crochet gifts that it took them a few minutes to realize I had stitched these myself, rather than buying them already finished.
To round out this year's embroidery adventure, I chose a dragon pattern from Urban Threads to work as my son's gift.  He is very much a dragon fan.  I also knew it had to be red, his favorite color.  The heavier lines are worked in stem stitch using a darker red.  The lighter swirls are worked in backstitch using a medium red.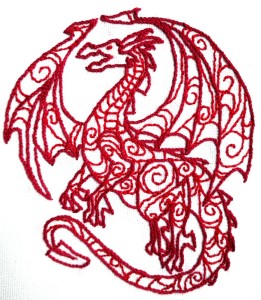 This gift was also a success.  He was just as enthusiastic about the embroidery gift as he was about the technology gifts – which is a hard thing to accomplish with a teenage boy.
I don't seem to have any photos of this one, but I also sewed a cushion cover for Mom and Dad's lake house and stuffed it with a nice thick slab of high-density foam cushioning.  Since seating can sometimes be at a premium for evening movie watching and general hanging-out when it's too hot or buggy to sit outside, this one is sized to provide comfort for those seated on one end of the large hearth.  Pile up a few pillows for back support, and you've got yourself a nice perch.
The last one I'll show you today is also for Husband, who celebrates his birthday just four days after Christmas.  That whole struggle of what to get the man who has everything is doubly troubling for me.  So I racked my brain, and kept a watchful eye out.  Then the designer who published the Happypotamus pattern released a new one – this time a bulldog.  Well, that got my attention.  Husband and I still don't have any pets because we came to a truce of sorts early on in our relationship – I would get a kitten when he got a bulldog, and vice versa.  I really don't want a dog and he really doesn't want a cat, so we're in a holding pattern.  How long it'll stay that way is anybody's guess.  Until then I'm happy to crochet a bulldog stand-in for him.
So that's what I did.  Folks, meet Cyril.  I named him after the bulldog in one of my favorite novels, so Husband may decide to call him something else.  This project ran so close to the deadline that I was stitching him together right under Husband's nose.  Yes, out in the open.  Though I did refuse to answer any questions about what the end result would be – which was delightfully frustrating for the gift recipient.
Pattern:Â  Max the African Flower Bulldog by Heidi Bears
Yarn:Â  leftovers from all the fingering weight projects I've stitched over the years
Ravelry project page:Â  here
There was one more knitted gift this year.  As it hasn't been received yet, I'll hold off on sharing it with you.  There's no sense in ruining surprises!