Wow!  This week has really gotten away from me.  One minute it was Monday, then I look up and it's already Friday.  I blame the sunshine we've been having.  It's obviously gone to my head.
You may be wondering what project I started next, once the green half-pi shawl was completed.  We're still in that in-between season where it's wintery in the morning and at night, but very spring-like during the middle of the day.  So I decided to wind up my handspun yarn and cast on for the mid-weight cardigan that I had planned.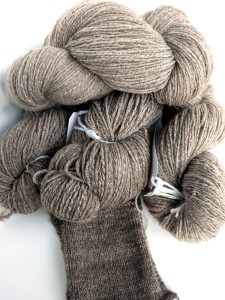 I had already done a sample swatch and determined that I didn't need to adjust anything to match the gauge listed in the pattern.  So I grabbed one of the smaller skeins and cast on.  This cardigan is worked top-down, starting with the raglan yoke.  The hope was that I would have just enough yarn in this ball to finish the yoke, then blend with the new ball of yarn at the start of the body.  Just in case the two batches of fiber/yarn don't match each other as closely as they look in the skein.
Here's my progress so far.  The gauge is still spot-on with the suggested pattern gauge.  And look how evenly the handspun yarn is knitting up.  Not bad, if I do say so myself!  (Every now and then one must pat one's own back.)
I'm very happy with how this is working up.  I waffled a bit in choosing which size to follow – the designer includes two choices for the "medium" size range that I normally fall into, and the finished measurements are very similar.  In the end, I chose the larger of the two mediums because the intent is for the finished garment to be a little on the roomy side.  So far the yoke increases are falling exactly where they should across my shoulders, which validates my sizing choice.
So onward!  Next up: sleeves and the first test of mixing the fiber batches.  (I know, it's so exciting!)