While some of you may still be laboring through winter with mounds of snow all around, Spring has definitely sprung here.  I have quite a bit of sympathy for you.  But that won't stop me from sharing the wonderful views that nature gave us yesterday.  (Scroll to the bottom if you'd like to skip the pics of floral abundance.)  In between the rain showers, we got a fabulously sunny sky.  Which, of course, I took full advantage of and set off for a walk.  Here are some of the scenes from around the neighborhood.
Isn't it fabulous?  I just love the new pops of color now as I'm out and about.  Our winter is not devoid of color – rather it is the opposite – but after a while it's nice to see a color other than green.  Green evergreens, green moss (on everything!), green lichen, green grass…
I also witnessed a large flock of ducks headed north the other day.  All of which convinces me that we're in the clear and it's time to plant the veggie garden.  I've got the first wave of onion sets in (first try at these, crossing fingers), and I'll be working on the seeds indoors and out over the next week or so.
In knitting news, I've finished both sleeves on my handspun cardigan.  Next I'll work the rest of the sweater body.  For the next little bit it will look like an uninteresting puddle of knitting on my needles.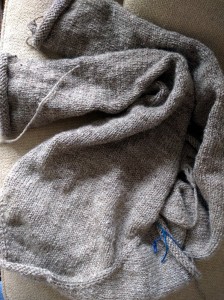 To keep things interesting, I also cast on for a new crescent shawl I dreamed up.  This one is mid-weight, with lovely cables every so often.  The effect is of little swirls and pools.  I am really excited about how it is coming out so far.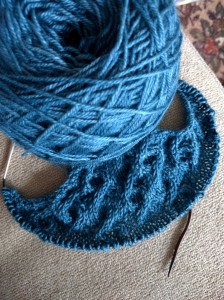 I am also spinning a bit on the multi-color project.  If I work on it a little each day, I might finish sometime in the next century.  At this point, I have completed one bobbin.  Only two more to go, then I can ply them together.
I think I should queue up some more audiobooks.