Remember that deadline I set myself to finish the handspun sweater before Son's Spring Break started?  Well, I met it.  Though I will admit that the sweater was still a bit damp when I packed it into the suitcase to make the trip with me.  I will also admit that it still needs buttons – though those are optional, the sweater works just fine without them.
Backing up a bit, when I last showed you the sweater I had finished the body and the sleeves.  I just needed to pick up and work the wide collar band.  There was plenty of yarn left to accomplish this, which I was ecstatic to see.  (The main worry through this whole project was running out of my hand spun yarn.)
So I picked up around the edges of the cardigan fronts and neckline and knit (and purled) like the wind.  This pattern uses decreases to shape the collar around the neckline, to bring in that wide edge so that it snuggles against the neck.  I like a good short row collar as much as the next person, but sometimes mindless knitting is better.  Much better in this case.
The simple buttonholes are worked in the last few rows of the collar, and then you're done!  Voila!  A finished sweater.  With plenty of yarn to spare – I still have half a skein of yarn, should I need to make repairs later or knit a matching hat.
I wore it several times on my trip, once it had finished drying.  It is generously sized and snuggly warm; I can see myself living in this sweater all through the rainy winters for years to come.  This was also such a great pattern that I can also see myself knitting several more of these so that I can have one in each of my favorite colors.
So now the question is: Now that I've finished my first major hand spinning/knitting project, would I do it again?
Answer:  Absolutely!  And I know just what I'm going to spin for the next handspun sweater project.  I picked up several boxes full of a gorgeous chocolate brown and black Romney/Alpaca roving from the Abundant Earth Fiber mill last fall.  I can't wait to get my hands into it now.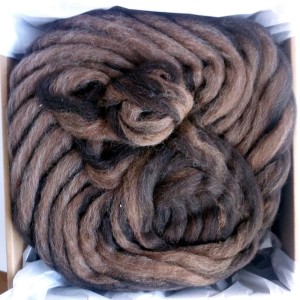 As soon as I clear the current spinning project off the wheel…
For the knitters: