There are only a few rules for summertime knitting: it needs to be portable and it needs to not make your hands sweat.  Preferably, it should also be quick and easy.  Because keeping up with a complicated pattern while also enjoying summery adventures is potentially crazy-making.
For this summer's knitting pleasure I chose two lightweight sweater patterns.  And I threw in a pair of plain socks for good measure.  One can never go wrong with a plain sock project in their everyday bag.
The first sweater is one that you've met before.  This is the sleeveless top that I attempted last year, but goofed up on the gauge so that it was way too small.  I bravely ripped it all out and started over.
Not only did I get it right this time, but I finished it in enough time to wear it before the autumn temperatures swept in.  The yarn is a fabulously lush blend of merino, cashmere, and nylon.  Makes you want to pet it all day long.  Sometimes a gal's got to splurge on herself.
The only stressful bit was there at the very end, when I thought I might just run out of yarn a few yards short of the finish line.  I ripped out my swatch and carried on, trying not to look at the dwindling ball of yarn.  But the knitting goddesses must have been smiling on me – I bound off the last edge with a nice tiny pile of yardage left over.  Whew!
For the Knitters:
The second sweater was a gift knit for Mom.  I've been coveting several of Anne Hanson's patterns over the years, but hadn't taken the plunge until I saw this one.  I showed Mom the photos and we both agreed that it was perfect for her.  So I went shopping for yarn and packed it with the other vacation knitting.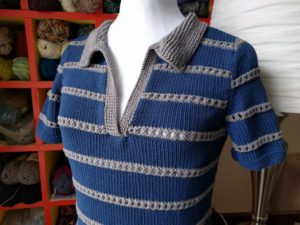 This pattern just begs for a cotton or cotton blend, despite what the designer intended.  I picked a blend: cotton for coolness in the muggy southern summers, bamboo and silk for strength and additional cool factor, and nylon to help it keep it's shape.  (There's nothing worse than a baggy cotton sweater at the end of a hot, damp summer day.)  Bonus points for getting a gauge I liked that also worked with the pattern.
Yes, it's colorwork.  Yes, it has some lacy elements.  Yes, it has shaping.  Yes, these three things generally mean a more complicated knit.  Despite all of these elements, this sweater was a breeze to execute.  The color changes are regular and memorable, the "lace" is easily memorized after the first few stitches, and the repeats are fabulously simple to keep up with.  I hardly needed a row counter.  A few strategically placed locking stitch markers to note the major points might be all that's needed next time.  Somehow the timing worked out that just when I needed to concentrate for a few minutes I found myself sitting on the beach or a couch, with just the right amount of peace and quiet necessary to work through it to another easy stretch.
A word about knitting sweaters in pieces – as opposed to knitting them all in one, without seams.  Most knitters fall in one of two camps: those who swear that all sweaters should be constructed in pieces and those who go out of their way to eliminate all seaming.  I tend to be more adventurous, and therefore fall somewhere in the middle.  Most of the time I fall to the side of eliminating seams where possible.  I typically knit with sturdier yarns that don't bag and droop.  However, when it comes to a cotton sweater (despite the bamboo, silk, and nylon content), you bet I'm going to take the time to stitch all of those seams.  Again, there's no love for a baggy cotton sweater.  But I have a confession.  I didn't sew the seams on this sweater.  I crocheted them.  Look inside your favorite store-bought sweater.  They crochet them too.
For the Knitters:
Pattern: Janet Guthrie by Anne Hanson
Yarn: CoBaSi DK by HiKoo (Skacel), colorways #81 Navy and #37 Gun Metal Grey
Ravelry project page: here
Last on the summer knitting adventure list are the pair of plain socks.  I confess, I love my plain knit socks better than my patterned ones.  So I save the patterns for my sweaters, shawls, hats, cowls, and mitts instead.  Which I guess is why I choose such vibrant and expressive yarns for my socks.  This way they are not boringly plain.  It makes me happy to wear a bright pair of socks peeking out of my shoes with an otherwise quiet outfit.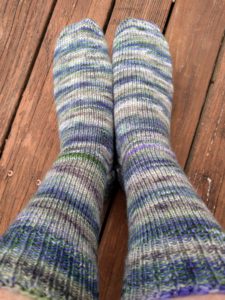 These socks fit the "happy" criteria perfectly.  The colorway is decidedly spring-like – which, judging by the dyer's choice of colorway name, was the point.  The yarn base I chose is a little more sturdy, which I also like.  These are getting use as boot socks and I want them to wear well.  So far, they are getting a fair amount of use in the sock rotation.
For the Knitters:
Pattern: my own vanilla sock pattern, sized to fit perfectly on my feet at my gauge
Yarn: Sturdy by Dyeabolical, colorway Hocus Pocus, I'm a Crocus
Ravelry project page: here
What's next?  Deadline knitting!  Because the holidays are right around the corner.