For my third experimental sample of the alpaca fleece, I decided to drum card the fiber and spin it using my default worsted drafting method.  This is as close to commercially prepped fiber as I can get using hand tools.  It is also the method which typically produces the smoothest and strongest yarn for me.
To recap: In the first experimental sample, I hand carded the fiber then spun them long draw from the ends of each little fiber roll.  The fiber prep and the spinning method combined to make an airy yarn with a lovely halo.  In the second experimental sample, I hand combed the fiber then spun them with a short forward draw lock by lock.  The fiber prep and spinning method combined to make a weak yarn in this case, so this method will be saved for more toothsome fibers in future.
I borrowed a drum carder from a fibery friend for the third experiment.  I tried it out first on a braid of commercially prepped fiber that had encountered some storage issues, so that I could learn on something not quite as precious as my alpaca fleece.  Once I got the hang of things, I ran my clean alpaca through the carder.  The machine separates the locks and evens out the colors, so that the batt that came off the carder was more uniform than what I was able to produce with the hand cards.
I rolled up the batt along the length – running with the direction of the individual strands – and attenuated it a bit.  This approximates the commercial fiber I get from yarn stores and indie dyers.  Though in my case, the fiber is much less dense.  This allowed me to put my spinning on default and let my hands work the same way they've been working on spinning since I first got my wheel.
The two-ply yarn created in this experiment is soft, drapey, lustrous, smooth, and strong.  A complete success.  The only drawback is that the color is more uniform.  The near-white to dark cream colors of the individual locks were homogenized by the drum carder into an allover middle creamy color.  Though whether this is an actual negative varies with the individual knitter – some like the consistent color, while others enjoy the color variations.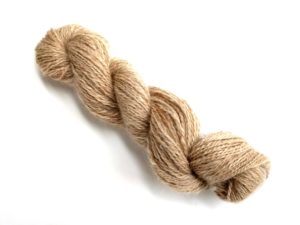 So now the decision is which of the two successful techniques to use for processing and spinning the rest of the fleece.  Do I like the yarn from sample #1 or sample #3 best?  I've got 13 ounces left to play with, which should give me 1000-1200 yards of finished 2-ply yarn (based on the yardage of my sample skeins).
I'm leaning toward sample #3.  Which is your favorite?