I hear that summer is in full swing in most parts of the northern hemisphere.  We got a few weeks of summer-like weather, then it turned spring-like again.  That's not stopping us from going outside though.  (More on that in an upcoming post.)  Which means that my current projects have gone over to the small and easily portable side.
I worked up a few swatches for a lightweight summer project that is my stealth knitting for the next few weeks.  I'm working with a medium weight cotton/bamboo/silk blend yarn that has a nice tight twist with lots of bounce.  But I also am hitting that my-gauge-is-just-slightly-different-from-the-designer's issue again with the pattern I am following.  Both of my swatches are "close enough," so it comes down to how I like the fabric and what that does to the size garment I'm knitting.  I want the finished piece to be airy and light, and I'd like the sizing to be non-clingy.  With both of those needs in mind, I chose the top swatch which was worked in a size larger needle.  I'll show you the actual fabric in my project roundup once the stealth portion is over – the actual knitting is well underway now – but I can tell you that I'm very happy with my decision.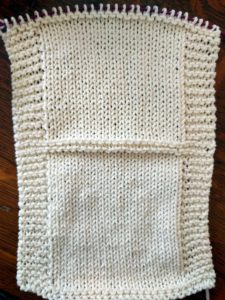 For the non-knitting snippets of time between adventures, I am revisiting my bag of spinning sampler fiber.  These little one ounce bundles are perfect for catching an hour or two of spinning during family movie time in the evenings.
Lately I've been trying out drafting techniques that are very different from my usual default style.  Again, the little fiber samples are perfect for this.  Just enough fiber to get the swing of things, but not a huge project.  So, three more breeds checked off the experimentation list.  I'm not a big fan of the longwool breeds (Wensleydale and Teeswater), or this Manx Loaghtan.  The textures are great for household applications, but that's not something I'm interested in doing right now.
I'm continuing to have fun with small embroidery projects too.  I came across an image of little french knot sheep on Pinterest several months ago, and lately decided that I needed to work up a small flock of them.  Here's an in-progress photo, after several podcasts' worth of work – about 1-1/2 hours.
(I've been knitting in public a lot lately, which leads to many discussions about how long a handwork project actually takes and valuing the work accordingly.  I use the example of the 184 hour knitted lace circular shawl quite a lot.  People's eyes generally open wide when they hear about that one.)
Speaking of portable project containing many hours worth of work, I'm nearing the end on this pair of socks for Husband.  These are my go-everywhere purse knitting.  And since Son has been taking a robotics workshop for the last two weeks, I've had a few odd hours every day between drop off/pick up and work where I can finish several rows.  Plus a few episodes of 'I just got paid to sit around knit for an hour at work.'
Which means I need to visit the stash and pull out another skein of sock yarn.  Hmmm.  What color socks should I make next?