Today's post is a continuation of the theme from the last one – spinning colorful yarn from hand-dyed fiber.  (And for the record, no, we didn't blow away.  We didn't even lose power.  I think it's because we were prepared for it to happen.  But really it's because the second storm did a little wobble that spared us by moving inland at southwestern Canada instead.  So difficult to accurately predict nature.)
For this spinning adventure I chose a braid dyed in hues that make me think of Fall.  Teal green, rich blue, and golden orange.  The fiber base is a mix of Polwarth wool and silk – very luxurious feeling, even in the braid.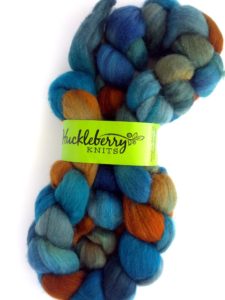 I broke the fiber in two across the length and spun each half onto a separate bobbin.  When spinning dyed fiber this way the progression of colors winding onto the bobbin is addictive – you want to keep going to see the next color.  Kind of like knitting with striping or variegated yarn.  You tell yourself you'll just spin until the next color, then stop for a break…and several hours later you realize that break never happened and you've reached the end of the bobbin.
The finished 2-ply yarn has the same luxurious feel as the original braid of fiber.  The Polwarth is soft, light, and fluffy, and the silk adds another subtle layer of softness with a light sheen.  Like the earlier adventures, the colors in the two plies sometimes match and sometimes mingle.  This yarn would make a lovely cold weather garment – or two, as there is plenty of yardage.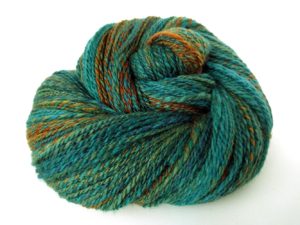 I'm adding this yarn as a new ready-to-ship item in my Etsy shop.  This will be the first of many such listings I have planned for future spinning projects.  Why?  I have become comfortable with the quality and consistency of my handspun yarn and I thoroughly enjoy the production of it.  (And let's face it, my stash just can't support my spinning habit too.)  Which is totally a win for knitters, crocheters, and weavers who like to work with handspun but don't want to spin for themselves.  Visit the product listing to find more information and to enhance your stash with beautiful handspun yarn.
For the spinners: