I bet y'all are a little bored of so many spinning adventures in a row.  So let's return to the land of knitting, shall we?  I'm playing with color there too, with a little texture thrown in for good measure.
I can't show you the little pile of stealth projects that I've been steadily working on for the last several months.  Gift knitting takes up so much of my crafting time during this part of the year.  Rest assured that I have a nice little pile of finished or nearly-finished objects in the wings for some worthy recipients.  You'll get to see them in January.  I can't wait to show you the fun I've been having with those projects!
What I can show you are the other tidbits I've been slipping in here and there between the larger gift projects.  Some of them are for purse knitting, when nothing else is portable enough.  Some of them are for a little brainless, or nearly-brainless, break from spending so many weeks on a project requiring intense concentration.  Some of them are for setting up adventures that are yet to start.
For the purse knitting category, I cast on a pair of plain knit socks with a super fun self-striping yarn hand dyed by a local artist.  Red is not really my color, but I love how it cheers up the grey and purple bands.  (Spoiler alert: This will be a theme – stay tuned for more.)  Watching the endless progression of the stripes sliding off the needles is wonderfully delightful.  Yes, I know they don't match, and I deliberately made them that way.  My other work is so detailed and regimented that I wanted something that was decidedly not.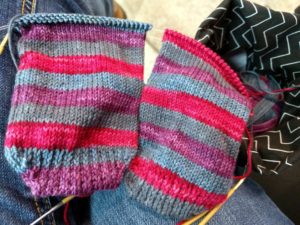 I am most of the way through the gusset increases leading up to the heel turn.  Which means that for the next little bit – until I get through the heavy concentration work of the heel turn – this project is temporarily off of purse knitting duty.  I can't let that go on for too long, so I'll rush to get the heels turned in the next few days.  Then all will be safe and mindless through to the end of the cuffs.
For the relatively fast, nearly brainless, gimme-a-break knitting, I cast on this lightweight textured cardigan in a classic navy.  It is proving to be perfect for those hours at the end of the day when my brain is still going at a million miles an hour, but my body is telling me I don't have the energy for something complicated or active.
This project is knit bottom-up, which isn't my usual style.  But the sleeves are joined to the body at the underarm, and then the whole thing is continued up to the neck in one piece, so I'll probably still like it better than doing a lot of seaming.  I made it more complicated in the beginning by changing the gauge – fingering weight yarn instead of DK or light worsted – but I can confidently do knitting math, and I love the drape and weight of this light layering piece.
For adventurous knitting, I'm working on setting up two yet-to-be-started projects.  The first is a new pullover sweater inspired by dresses worn in two of my favorite classic movies.  A little nipped-in waist, a little detail at the neckline, a little roominess in the shoulders, a little nipped-in cuff.
I've got the pattern all worked out and ready to cast on.  I'm planning to use the bag of olive green alpaca yarn that Husband brought me from his trip to Peru several years ago.  I've used this yarn before, so I know how it behaves before and after washing, and it's going to look great.  This project is planned for the selfish knitting phase that starts immediately after the gift knitting phase is complete.  But it's soooo terribly hard to wait!
The second is a design in progress to set up my last gift knit of this season.  Husband asked for a colorwork hat with a very specific theme.  I can't confidently proceed with the knitting once the design is finished without getting his input on my plans, so it's not really falling into the stealth category.  I mean, I'll probably knit it out of his sight, but it's not like he doesn't know it's coming or won't have a good idea what it'll look like.
What does setup look like?  Well, here's a little swatch I knit up in a similar construction to get an idea of my gauge.  (What's with the tiny swatches lately? I promise I'm not always this bad!)  And I'm doing some sketches and charting doodles to work out what the individual motifs will look like and how to stack them together.  Graph paper and spreadsheets are a big help for this project.  The general idea is of a Fair Isle inspired beanie, where instead of the usual traditional motifs I'm inserting made-up ones that represent Husband's interests.  Yep, truly an adventure!
What else?  There is a spinning project, of course.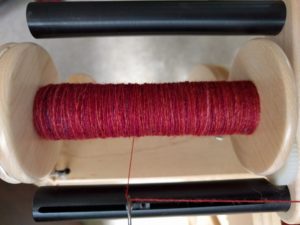 Like I hinted earlier, this one is full of reds and smokey greys.  I don't know where this need to spin warm colors has come from, but this is not the only fiber in the spinning queue that includes these hues.  Follow the inspiration.
That's it for now.  Only 44 days til Christmas – I've got to get back to work!  How's your gift pile looking?