I think most crafters would agree: after so many weeks/months of making things for others, there is a strong urge to just make something for one's self.  This is very strongly felt around the end-of-year holidays.  I willingly admit that I am hardly ever immune.  Sometimes it is the carrot at the end of the stick.  Sometimes it is medicine to help us relax back into regular life.  Sometimes a very small project will do.  Sometimes a whole pile of projects are necessary.
This year the pull of selfish knitting was especially strong.  So strong, that in the middle of December I took an hour break from all of the usual activity and spent the entire time winding yarn and loading project bags for the top-of-queue projects I wanted to cast on the minute I was finished with gift making.  Because once the gifts were done, the in-progress list would be entirely empty.  And that will never do.
So…  I needed a sock project for purse knitting.  Check.  I needed a sweater project or something of equivalent size.  Check.  I needed a medium sized project for in-between times where neither socks nor sweaters are called for.  Check.
(My fellow knitters will note that I observed remarkable restraint by stopping at three new cast-ons.  I reserve the right to add more as necessary.  There is no shortage of stash, after all.)
First on the needles was the pair of socks for purse knitting.  Or airplane knitting, as the case may be.  After two four-hour flights I had worked up to the start of the gusset increases.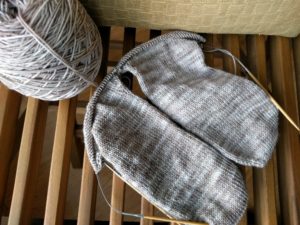 Side Note:  Several lovely people who see me knitting in public have flattered me by asking if I ever sold my hand-knit socks.  I kindly reply that they take ~10+ hours to make (depending on size).  What does that work out to in your hourly wage?  (Wait patiently while they perform the mental calculations.)  Oh!!!  Yep, that's why I don't attempt to sell my hand-knit socks.  If Persnickety the sock knitting machine would get with the program, well, then we might be able to talk about selling socks in my shop.
As soon as the socks were underway, I cast on the sweater project.  This uses some of the alpaca yarn stash that Husband brought back for me from his trip to Peru.  Last winter, I sat down and drafted out the pattern for a mid-century inspiration sweater with this yarn in mind.  I had intended to cast it on then, but other projects kept inserting themselves a bit higher in the queue.  So I used it as my carrot on the stick for finishing up all of the gift projects.
After a few false starts where I ripped back the entire upper portion of the sweater twice, I have finally made it down to the hem of the body.  (There was a bit of unhappiness with respect to how the raglan increases were looking at the shoulders.  It had to be fixed.)  I'm very happy with how this project is progressing.  The top portion is intentionally blowsy, with the bottom portion nipped very close in to the waist.  I love it when reality matches the vision in my head!  Now it just needs sleeves and a collar.
The medium sized project is a fingerless mitt and short cowl set using some locally grown and locally mill spun yarn I picked up at a fiber festival in the fall.  I jotted down some basic draft pattern notes, but I'm really kind of making this one up as I go along.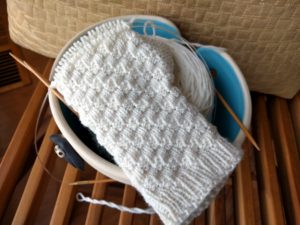 I really like how this is turning out as well.  I'll reserve judgement til they're finished, but I'm excited about the outcome.  Look for a longer post about this mitt/cowl project and the local yarn in the future.
So far, I've been really good and haven't cast on any other projects.  Though there is a ball of gradient handspun paired up with a downloaded shawl pattern that is calling my name…
What are you selfishly knitting this month?