Yep, it's well into February and I'm just getting this posted.  The camera and I are having a tiff.  Unfortunately for me, the camera is winning.  I toted all of my items out into the sunshine last week to take pictures.  Good light, right?  Only to discover later that evening that there was no memory card in the camera.  Crum!  So I tried again the next day.  And took terrible shots.  I tried again.  More terrible shots.  So I gave up for a few days.  Like I said, the camera is winning.  It's best to just go with it.
As blogged previously, I finally finished my gray shell socks.  I love wearing them!
I improvised this hat based on a stitch pattern in my copy of the Big Book of Knitting Stitch Patterns.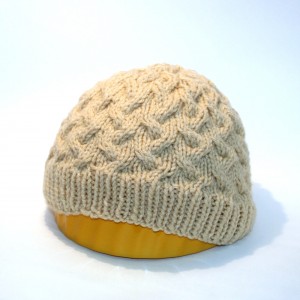 I crocheted this dishcloth, since my stash of dishcloths seems to be dwindling again.  I should have gone with my gut and whipped one up, as per usual, but I saw this pattern (Ravelry link) and thought it looked cute.  Apparently it is designed to use up the majority of each skein of yarn because the finished product turned out much too large to be used as a normal dishcloth.  I guess it's now a hot pad / small towel.  I do like the color combination and the stitch combination used though, so the next version will be kept to a usable size.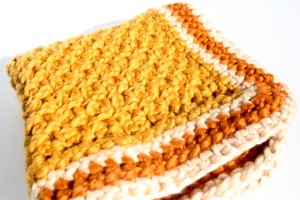 When I was home for the holidays Dad was eagerly showing off his woodworking shop and his latest in fabulous designs for cedar outdoor furniture.  (It seems that crafty creativity does indeed run in the family.)  And there at the end of the shop lies a 3 to 4 foot tall pile of cedar shavings just lying there making the shop smell insanely wonderful.  Um, bag that up.  I have an idea…
I worked up a test for a sachet using some stash sock yarn.  Self-striping of course, so you can only see the shell pattern at the top if you're holding it and looking closely.  Well, it is a test.  I like the shell, but in the end decided it was unnecessary.  It's missing the drawstrings, but you get the gist.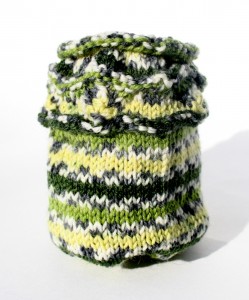 Work in progress on a plain knitted sachet using the leftover yarn from my Blue Leaves scarf/shawl.  I'd better get a move on.  Everyone needs some of that good smelly cedar.
Test swatches of two other stitches in the Big Book of Knitting Stitch Patterns.
I spent half the month playing around with stitch patterns for an iPad sized sleeve.  The change in scale from a Kindle sleeve threw everything out of whack.  And I don't have an iPad to try it on every couple of rows to make sure it's on track.  I did find a similarly sized book in my personal library, which helped a lot.  I finally was saved through math, with some help from graph paper and my trusty pencil.  See?  Drawing really does help.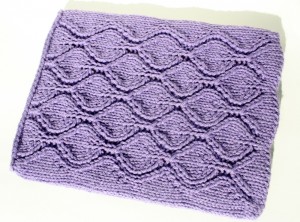 I think I know someone who likes purple and who also received an iPad for Christmas.  Maybe I can work a trade for a regularly scheduled dose of fuzzy kitten pics.