My knitting/crochet mojo seems to have hit a particularly bad stretch of "sporadic activity."  And "hopping around."  And "never getting anything done."  There are no finished works, just a large pile of works in progress (WIP) that never seem to actually…well, progress.
Here's a look at what's on the needles lately.
I dug the Lestrange Cardigan project out of the long-term storage WIP pile to knit on while on vacation.  It's really the perfect weight to be wearing right now through to the beginning of July.  (The weather gods have determined that summer does not officially start in the Pacific Northwest until they see the Independence Day fireworks.)  I finished the upper body, and knit most of the sleeves while traveling (hooray for knitting them both at the same time!).  And then I stalled again because I needed to switch to the final version of the Knockoff Cable Sweater.  I just have the sleeve cap shaping and then miles and miles of lace borders to go!  Maybe I can sneak it in somewhere…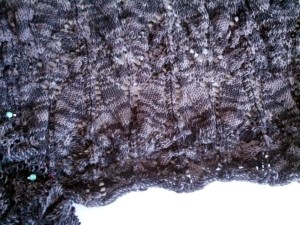 Last month I had the itch to crochet a crescent shawl.  Don't ask me why, it just overcame all rational thought and I needed to have one right then.  Cue the Ravelry pattern search, the stash dive, and many hours of happy crocheting.  And then the need passed, right about the time I got to the lace section and the pattern was getting interesting.  I think unless I can find a willing recipient for this, it just might stay in hibernation indefinitely.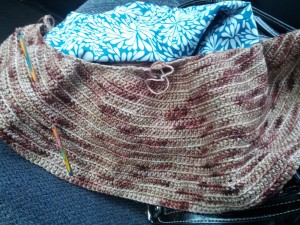 I sat down with Persnickety and knit a few pairs of socks.  Finally, we're getting somewhere!  We happily cranked out a pair of boot socks for Husband, and a pair of boot socks for myself, then we hit a bit of a snag.  My hope was to crank a pair each week, for one or the other of us.  The reality is that when she drops half the sock after happily knitting the foot and turning the heel, I walk away and she goes in time out for a few days.  So it took a few weeks to get the next pair of socks.  And it'll probably be a few weeks before the next pair is cranked out.  Which is still twice as fast as I can knit them myself by hand, and that's if I don't knit sweaters too.  She's still pretty handy to have around.
One of the Knit Girls decided she wanted to knit my Knockoff Cable Sweater (you know the one I wrote about here, here, here, and here) for herself out of the same yarn I'm using for my final version, but in a different colorway.  So I played around with the charts to size them for her dimensions and we both cast on a sleeve.  It turns out that even with my sporadic knitting schedule right now, it's a quick knit and we both finished the sleeve at the same time.  Now on to the second sleeve.  If my friend wasn't knitting with me, and we weren't fixing charting discrepancies as we go (apparently I was half asleep when I updated the charts), I'd probably put it down.  This one isn't for wearing until next winter; the Lestrange Cardigan would be higher on the to do list.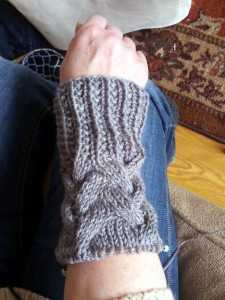 Is this what Spring Fever is all about?  Tackling all the projects, all at once?